Ahead of Modi-Putin meet, India makes Russia 'work hard' for its NSG entry: Report
India has warned Russia that it will halt cooperation with its foreign partners for development of its civil nuclear programme if it is unable to get the full membership of the Nuclear Suppliers Group in the next one-two years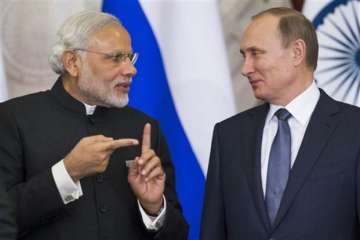 Ahead of Modi-Putin meet, India makes Russia 'work hard' for its NSG entry
India TV News Desk
New Delhi
May 17, 2017 8:06 IST
India has warned Russia that it will halt cooperation with its foreign partners for development of its civil nuclear programme if it is unable to get the full membership of the Nuclear Suppliers Group in the next one-two years, says a Times of India report. 
To make its point clear, India has continued to delay the MoU with Russia for developing Kudankulam 5 and 6 reactor units. 
As Russia has been working hand-in-hand with China on global issues, India has often looked at Moscow to persuade Beijing to let go of its opposition to India's NSG membership. 
It seems that Russia is now worried that the reason behind India delaying the MoU might be that it wants Moscow to work more proactively for its NSG membership. 
According to the report, worried with India's reluctance to seal the MoU, Russia's deputy PM Dmitry Rogozin took up the issue with PM Narendra Modi in their meeting last week. However, Rogozin was not given any assurance on signing the MoU. 
The meeting was held to prepare the groundwork for Modi's summit with President Vladimir Putin early next month. Moscow is worried that without the MoU, there will be no real takeaway from the summit which is barely two weeks away. 
India's message to Russia is said to have been quite clear in nature. It stated that without NSG membership in the next one-two years, India would have no option but to go for an indigenous energy programme. 
It is not clear if a similar 'message' was sent to the US and France, two other important partners in nuclear energy. 
However, it's quite clear that the government sees Russia as the only big power which has enough influence with Beijing to soften its position on the issue of India's NSG membership.
It has been observed that despite repeated appeals for over six months, Russia has been unable to convince India to seal the MoU which was originally meant to have been signed on the sidelines of the BRICS Summit in Goa last year. 
It was then said that the MoU will be signed by the end of 2016. However, with 2017 midway, India continues to show its reluctance on it despite issues like pricing and technology having been long settled. 
Russia in concerned that India is not responding to its request for signing the MoU even weeks ahead of the Modi-Putin summit. It sees nuclear energy cooperation as one of the most significant elements of its bilateral relationship with India.
While Russia has worked hard for India's NSG membership, New Delhi believes that it hasn't done enough to convince China which sees Moscow as a key partner in dealing with the emerging international situation. 
On the other hand, Russia believes that by inviting Dalai Lama to Arunachal Pradesh, India has further complicated its case and that will only see China further hardening its position.