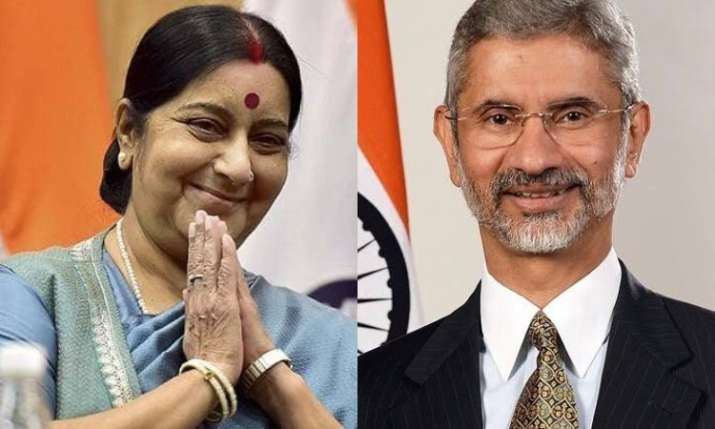 After registering a landslide victory in the Lok Sabha elections 2019, PM Narendra Modi has officially begun his second term with the announcement of portfolios. A day after swearing-in ceremony in the forecourt of Rashtrapati Bhavan on Thursday evening, where 57 Council of Ministers were administered the oath of office by President Ram Nath Kovind, portfolios have been announced.
The new Council of Ministers has 24 Cabinet ministers, 9 Ministers of State with independent charge and 24 Ministers of State. Among 24 new faces — seven hold Cabinet rank, one Minister of State (independent charge) along with 16 Ministers of State. Those who have been excluded are Sushma Swaraj, Suresh Prabhu, Maneka Gandhi, Uma Bharti, Mahesh Sharma, Radha Mohan Singh, Rajyavardhan Rathore, Jayant Sinha, Jual Oram and Ram Kripal Yadav.
However, among all the above, the one who is being dearly missed by netizens is former External Affairs Minister Sushma Swaraj. She did not contest the Lok Sabha elections this time citing health issues. Soon after the swearing-in ceremony of Modi Cabinet 2.0, Swaraj edited her Twitter bio to remove her designation. Those who are guessing why is internet so obsessed with Swaraj, let us tell you that during her tenure, she was quite popular among the Indian diaspora and the compatriots stranded anywhere across the globe. Just one tweet to her regarding the problem and she would immediately swing into action. 
Here's how Twitter reacted to the exit of Sushma Swaraj.
@SushmaSwaraj was one of our finest ministers, a most humane #MinisterOfExternalAffairs, who was always approachable, efficient and kind. Sushmaji you will be missed a lot. Hope your health improves and you get to enjoy precious family time with your loved ones. Thank you! https://t.co/LByHfK8ptV

— Swati Parashar (@swatipash) May 30, 2019
I hope the newly appointed #MinisterofExternalAffairs Mr. #SJaishankar retains the level of respect & response that Sushmaji brought the ministry.@SushmaSwaraj changed the way the ministry worked and was extremely responsive to citizen issues. The Nation will truly miss her work

— HarshaVardhan Bhende 🇮🇳 (@hbhende) May 31, 2019
I did not realize (until 2 mins back) that #SushmaSwaraj @SushmaSwaraj is not swearing in, which means she will not be a part of #ModiSarkar2

I'm so disappointed because she was one of the best MEA India had. A shining jewel of the #ModiCabinet #ModiSwearingIn

— Shantala Shenoy Nayak (@shanayatales) May 30, 2019
The Minister who won hearts since the time she took over, by helping many Indians in times of troubles and one of the best minister in terms of performance.
RESPECT #SushmaSwaraj https://t.co/Ewo44bKnib

— Surbhi Sharma (@Surbhi_R_Sharma) May 31, 2019
However, it is not that Twitterati aren't pleased with the appointment of S Jaishankar as Minister of External Affairs. India's longest serving foreign secretary in recent times is the surprise pick in the Modi cabinet and netizens are quite elated to see an outsider and experienced person getting a suitable designation. It is believed that the former diplomat's expertise and network will help India in significant ways. Here's what Twitter has to say on S Jaishankar's appointment as Foreign Minister.
Love the appointment of #SJaiShankar. Hope the government appointing competent people becomes the norm. As citizens of a democracy, all Indians should expect more out of the ruling political class.

— ctrl left alt right delete (@polit_beast) May 30, 2019
So satisfying to see @DrSJaishankar in the union cabinet.#SJaiShankar has a distinction of being First former foreign secretary to be a member of the cabinet without being a member of the ruling party. https://t.co/ZG0hYKXRAN

— Nikunj Rathod (@NikunjRathod_) May 31, 2019
Appointment of #SJaishankar as Minister of External Affairs unexpected but an inspired, out of the box decision as far as #Indianforeignpolicy is concerned!

— Nabarun Roy (@NabarunRoy15) May 31, 2019