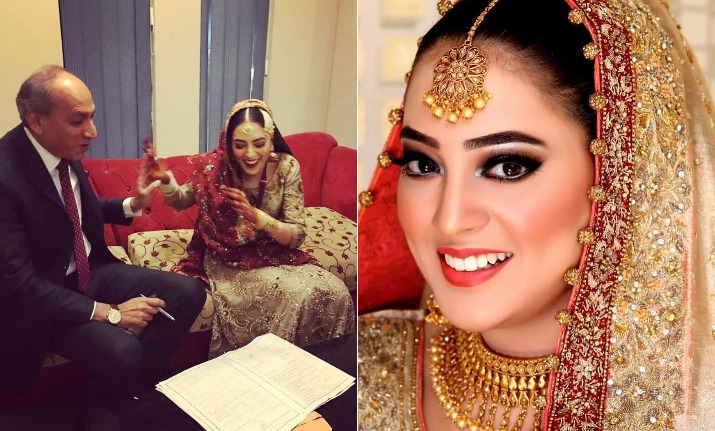 Happiest brides are the prettiest. Someone has said it rightly. Sitting coyly on the stage is not a bride's thing anymore. Nowadays, the brides are as happy and cheerful as they can be on their big day. Weddings are meant to be happy, after all. This Tik Tok video of a bride from Karachi, Pakistan is going viral for all the right reasons. In the video, the young woman is being asked to sign the Nikahnama by her uncle but while doing so, she breaks into a frenzy of laughter twice. The video has been circulated by many Twitter users not only in Pakistan, but India as well. 
A Pakistani website approached the viral bride, who turned out to be a morning show host Yusra Aejaz Khan. She has graduated from LUMS and is a popular YouTube. When asked about the reason behind her laughter, she said that she was nervous that's why she was laughing. She elaborated, "whenever I'm in pain or I get really really nervous or I'm in a very serious situation, I start laughing."
Yusra's Chacha was reading the Nikah documents to her and it was strange for her to hear him address her neice with her full name in such a serious manner. This made her laugh uncontrollably. 
Yusra Aejaz Khan married the love of her life whom she has been dating for past 10 years. It was surreal experience for her Chacha to take her husband's name whom she has been dreaming of marrying since she was very young. Surprisingly, Yusra's family was extremely supportive of her. Talking about her viral wedding video, she said, "Thankfully, no one from my family stopped me from laughing out loud. Even my friends who were telling me not to laugh were doing so while laughing themselves. My family was generally very happy for me and even before the video became viral, would forward it to everyone in their contact list, saying that this is how one should sign their nikkahnama. Basically, everyone I know was pretty chill about it".