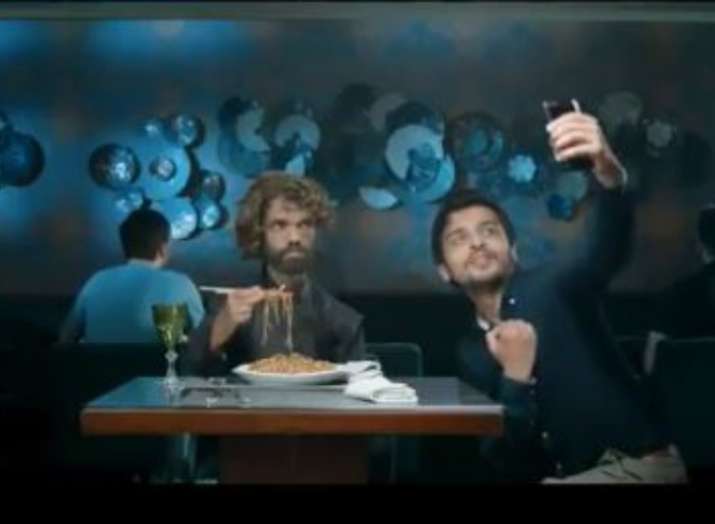 Game of Thrones star Peter Dinklage's doppelganger has broken the internet with his acting debut with a TV commercial. Rozi Khan, a waiter in Rawalpindi, became an Internet sensation since his uncanny resemblance to Dinklage emerged. "My wish is to work in movies," he had said in a recent interview, and now he seems to be getting closer to his dreams, reported dawn.com. Khan, 26, has made his acting debut in an ad for delivery service Cheetay, and it has "Game of Thrones" references aptly placed. In the video, Khan is seen trying to eat his food peacefully as Game Of Thrones' fans mistake him as Tyrion Lannister and ask him for selfies and autographs. They even ask him the ending of the much-popular TV show.
Watch the viral video here-
Food is coming. #KhawariSeAzadi

Ready to watch the next episode of GoT? Don't forget to order your food from Cheetay!

Order now: https://t.co/GZunxg2eqc pic.twitter.com/CMdY08WYtq

— Cheetay (@cheetaypk) April 27, 2019
Game Of Thrones Season 8 is witnessing huge fan base as it is the last season of this long running TV show. The episodes of the popular fiction TV series premieres on HBO at 6:30 am every Monday, which makes everyone wake up early in the morning. Recently, a Pakistani girl who calls herself Arya Stark demanded the Pakistan government to declare Monday a holiday so that she and other GoT fans can watch the show with ease. She penned an open letter to Pakistani Daily Dawn. Her letter reads, "I cannot believe we are already half way through the last season of Game of Thrones. All those characters - Arya, Sansa, Jon Snow, the Lannisters - finally will meet their end. Or kill the Night King. I wish we could easily watch shows like Game of Thrones on TV - in order to watch an episode on Monday morning I have to stay up all night on Sunday... or wake up at 5am."
The letter further read, "The storyline and cinematography of the show are great. The show itself is based on George RR Martin's best-selling book series called A Song of Ice and Fire. It is a story about two powerful families, kings, queens, knights, rebels, witches, liars and honest men - playing a deadly game for control of the Seven Kingdoms of Westeros. Sometimes when I watch the show, I feel it reflects what is happening in politics today as well."
This letter in Dawn today is a MOOD: "I would like to request the government and bosses to declare the next three Mondays as federal holidays so everyone can watch #GameofThrones in peace..." pic.twitter.com/Urse05EwVg

— Sanam Maher (@SanamMKhi) April 30, 2019