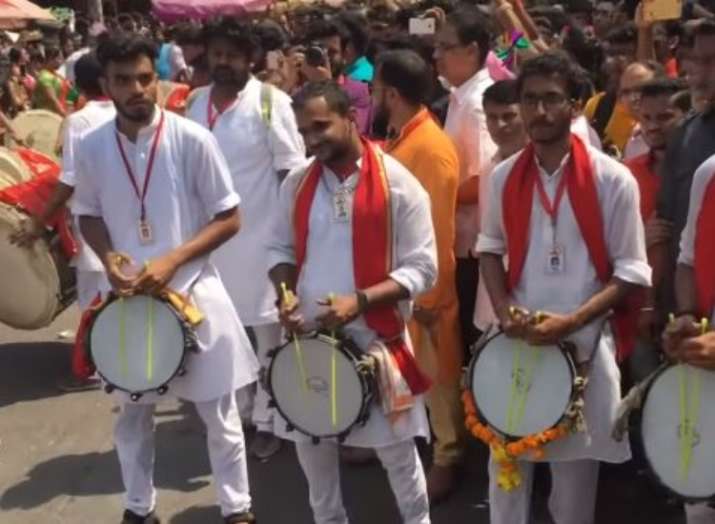 There is hardly anyone who is not waiting for April 14 so that they can stick to their TV screens with their popcorns and watch the eight season of Game Of Thrones. The hype of the most popular TV series is so much that even Mumbaikars have raided the streets of the city by playing the theme song of the show on Dhol tasha and Bulbul. Dressed in traditional Maharashtrian attires, a group of people took over the streets of Mumbai to celebrate the festival of Gudi Padwa (New Year) but with a twist as they played Game Of Thrones theme song on their musical instruments.
The video has been going viral on the internet soon after it first appeared on YouTube. The theme song is performed by Aarambha Dhol Tasha Pathak, band famous for their performances during Ganeshutsav, Navratri, Makarsankranti, and Diwali festivities. The group reunited once again to perform the desi rendition of the track donning similar white outfits. Netizens were instantly mesmerized when they heard this rendition and took to social media to shower praises. One Reddit user even wrote at length, explaining the Game of Dhols. He wrote, "This is called as "Dhol Pathak" (ढोल पथक). Number ranging from 10-20 to even hundred of Dhol players can be part of this band or Pathak. Back in the days, I mean before DJ's and Banjo's, in front of Ganpati or other ceremonial processions there used to be such band where bunch of men would play dhol and let everyone know, Ganpati or any procession in full celebration mood arriving in their area."
Watch the viral video here-
Game of Thrones Season 8 will premiere internationally on April 14. It will stream on Hotstar Premium along with the international premiere. It will air on the small screen in India on Star World on April 16.