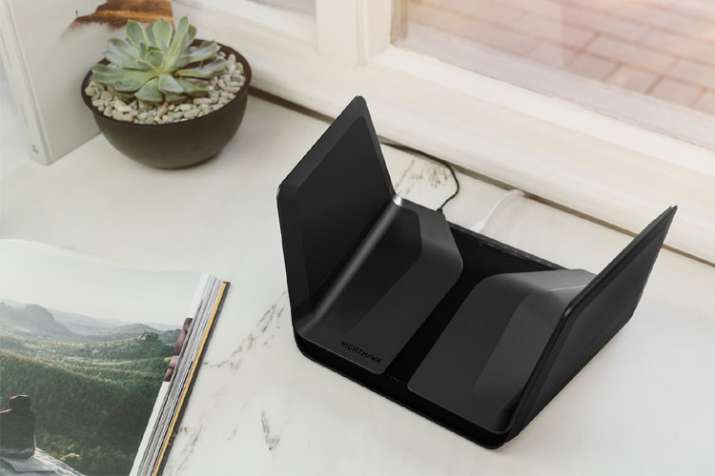 NETGEAR announces its Tri-Band Wi-Fi 6 routers Nighthawk AX4 and AX8, in Bengaluru. Wi-Fi 6 is the latest generation of Wi-Fi that delivers more than four times performance than Wi-Fi 5. The technology comes with Orthogonal Frequency-Division with Multiple-Access that aids in maximising the capability of connecting multiple devices at the same time that reduces congestion for the typical bandwidth starved connected home.
Also, read: Google Pixel launch teased on Flipkart for May 8, Pixel 3a and 3a XL expected
Marthesh Nagendra, Country Manager - India & SAARC, NETGEAR added,"With the increasing number of Wi-Fi devices in our home network, it is has become critical for NETGEAR to provide a solution where each device gets the Wi-Fi bandwidth it needs so that you can get the quality connected experience that you deserve."
"The NETGEAR AX Nighthawk delivers super-fast Wi-Fi with better coverage and, more importantly, has the power and capacity to handle the dozens of devices in the typical congested smart home," added Nagendra. 
NETGEAR Nighthawk AX4 4-Stream AX3000 Wi-Fi 6 Router(RAX40) offers a combined Wi-Fi speed of up to 3Gbps and an AX optimized dual-core processor powers smart home automation with ultra-smooth 4K UHD streaming and more. It streams with up to 600 + 2400Mbps for ultra-fast wireless speeds, while the Dual-core processor ensures smooth 4K UHD streaming and gaming, along with Powerful amplifiers for network coverage in medium size houses.
Nighthawk AX8 8-Stream AX6000 Wi-Fi 6 Router (RAX80) offers a fast combined Wi-Fi speeds of up to 6Gbps with both Red Dot and iF Design awards.
Speaking at the India launch, Patrick Lo, Chairman and CEO of NETGEAR commented, "At NETGEAR we strive to push our boundaries with innovative technology and solutions. The previous Wi-Fi iterations have been largely about enhancements to speed, the AX Wi-Fi 6 router promises a number of other benefits such as lower battery consumption, ability to serve multiple users and devices at the same time and most notably increased capacity and reduced latency."
The NETGEAR Nighthawk tri-band Wi-Fi 6 routers, AX4 and AX8 will be available via authorized NETGEAR partners and other e-commerce portals.
The NETGEAR Nighthawk AX4 4-stream AX3000 Wi-Fi 6 Router (RAX40) is priced for INR 29,999, while the NETGEAR Nighthawk AX8 8-stream AX6000 Wi-Fi 6 Router (RAX80) is priced for INR 39,999.
Also, read: OnePlus Bullets Wireless 2 and OnePlus Warp Charge 30 Car Charger leaked before launch