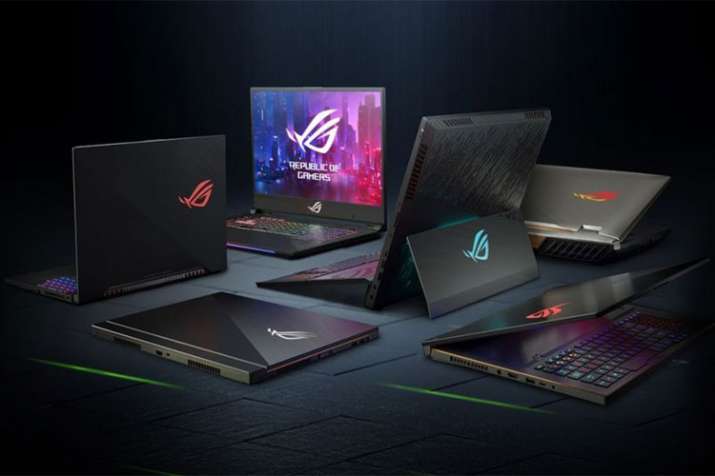 Asus ROG also known as Republic of gaming unveiled a new range of gaming laptops in India called the ROG Zephyrus S GX531, ROG Zephyrus S GX701 and ROG Strix SCAR II, along with the desktop named GL12CX.
Also, read: Tim Cook changes his Twitter name to Tim Apple after Trump's flub
ROG and PC Head, ASUS India, Arnold Su said in a statement, "Today we launch the new ROG line-up powered by the new NVIDIA GeForce RTX lineup, including the GeForce RTX 2080 on the GL12CX desktop, and the GeForce RTX 2060, RTX 2070 powering the ROG GL504 laptop with gaming and VR performance. Each one offers cooling to ensure that the products deliver unprecedented sustained gaming performance".
ASUS Zephyrus S GX531 ultra-slim laptop
The ASUS Zephyrus S GX531 ultra-slim laptop comes with a 15.6" display, NVIDIA GeForce RTX 2070 Max-Q, 144Hz refresh rate display and 3ms response time plus and is powered by Intel Core i7-8750H CPU. It measures 15.35~16.15mm and was launched as the world's slimmest gaming laptop. It gets an AAS cooling system patent and has a 12V anti-dust cooling fans with 5 heat pipes and 4 heat sinks.
The Zephyrus S GX531 would be available starting April for Rs 2,39,990.
Asus Zephyrus S GX701GX
The Asus Zephyrus S GX701GX comes with a 17.3-inch display and gets up to 8th Gen Intel Core i7 processors and NVIDIA GeForce RTX  2080 GPU. The device with an even more compact ultra-slim chassis and has the same 144Hz 3ms response time display. It gets the patented AAS cooling system that sustains high performance via efficient cooling and comes with per-key RGB Lighting and Aura Sync that also extends illumination to volume roller for quick adjustment and a glowing numpad, which appears on the touchpad.
The ROG Zephyrus S GX701GX would be available from April for Rs 3,49,990.
Asus ROG Strix SCAR II
The ROG Strix SCAR II comes with a 15.6-inch, 144Hz high refresh rate and 3ms response time display that features 8GB NVIDIA GeForce RTX 2070 graphics and gets the 8th Generation Intel Core i7-8750H six-core CPU with ROG RangeBoost technology with dual storage solution of SSD + SSHD, along with HyperStrike Pro Keyboard and four AURA RGB backlight zones with prominent WASD keys and 1.8mm key travel distance.
Asus GL12CX gaming desktop
The GL12CX gaming desktop comes with an i9-9900K Intel Coffee Lake processors with up to RTX 2080 for immersive 4K HDR gaming and hot-swaps 2.5-inch SSD tray. Other features include a customized Cooler Master MasterLiquid Pro with 120 closed-loop liquid cooler, which keeps the CPU temperatures down, preventing the heat-induced hitches, along with performance lags.
Also, read: Xiaomi Black Shark 2 Gaming phone set to unveil on 18th March, with 12GB RAM, Liquid Cooling 3.0 and Snapdragon 855