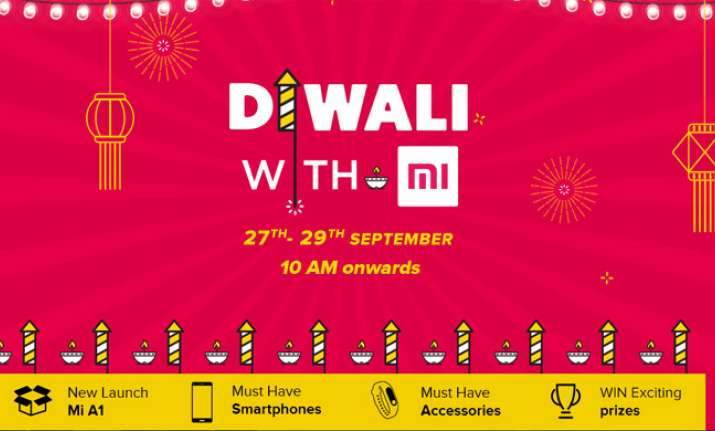 It is a sale that perhaps was never meant to be. Xiaomi's festive season sale that began today soon after the company announced that it sold a million phones in a period of two days on Flipkart and Amazon is turning out to be a complete dud, with all items out of stock within the first hour of the opening of the sale.
The Diwali with Mi sale that started 10 am on Wednesday and will run till Friday, September 29, on the Mi Store app and Mi.com website, shows "Out Of Stock" for all items that we tried to order on its website.
The order included Xiaomi mobile phones, wearables, accessories, etc. All items we added to the cart appeared to be out of stock, with a prompt asking us to "reappraise the items in the cart and try again".
The Mi A1, which opened for sale at 12 noon went out of stock the moment it went live. Other items on our cart included the Mi Max 2, Redmi 4A Mi Headphones, a 10,000 mAh Mi Power Bank, Mi Air Purifier 2 and a Mi Router 3C. None of the listed items were available for purchase, though many were added just to check their availability.  
The website also does not throw up any information on when the items may be made available again.
As part of its three-day sale, Xiaomi has lined up Re. 1 flash sales on all days, app-only Bid to Win contest, and prizes on answering questions daily. You can also claim and redeem coupons for discounts on various products, such as Xiaomi Mi A1, Redmi Note 4, Mi Band HRX Edition, and Mi earphones and battery packs, provided they show up to be in stock for purchase.
Xiaomi had earlier said that as part of the sale, users will get coupons worth Rs. 100 and Rs. 500 at 10 am every day. The Re. 1 flash sale will happen at 11am and 5pm each day, the app-only Bid to Win contest between 2pm and 6pm, and the Fastest Fingers First contest at 4pm throughout the sale.
Xiaomi also promised discounts while purchasing through SBI credit and debit cards and extra 5 percent cashback of maximum Rs. 1,000 on a minimum transaction of Rs. 8,000 per card and Rs 400 cashback on purchase of Redmi Note 4 for Paytm users.
This was apart from the Rs. 1,111 cashback on domestic flight bookings on Paytm till October 31 for purchases made via Mi.com.
Xiaomi sale offers on mobiles
Xiaomi Mi A1 price is being offered at a price of Rs. 14,999 during the Xiaomi sale. This can be combined with Mi tokens in exchange for F-codes for Mi members to avail further discounts.
Redmi Note 4 price will be down to Rs. 10,999 for the 4GB RAM, 64GB storage variant, and Rs. 9,999 for the 3GB RAM, 32GB storage model. Xiaomi is also offering up to Rs. 1,500 off on Redmi 4 and Rs. 2,000 off on Mi Max 2 smartphones.
The recently-unveiled Redmi Note 4 Lake Blue Edition was also to be available to buy at Rs. 12,999 for the top-end model with 4GB RAM and 64GB storage. Similarly, the Redmi 4A variants with 2GB/16GB and 3GB/32GB configurations will also be available be available on sale, though without discounts.
None of these itmes, however, were available for purchase despite repeated attempts.
Xiaomi sale offers on wearables, accessories
In the accessories department, the Mi Band HRX Edition were to be made available at its original price of Rs. 1,299 with Rs. 300 off when redeeming Mi tokens during the sale. Other products on offer during the sale include Mi Headphones Comfort White with Rs. 300 off, Mi In-Ear Headphones with Rs. 100 off, Mi Capsule Earphones with Rs. 100 off, Mi In-Ear Headphones Pro with Rs. 200 off, and a newly launched Mi Bluetooth Speaker Basic 2 at Rs. 1,799.
None of these items could be purchased from the website, neither was the 10,000mAh Mi Power Bank 2 Black that was available for Rs. 899, while the 20,000mAh model in White colour will sell for Rs. 1,799.
Xiaomi's Mi Air Purifier 2, which we added just to check its availability the second time we made an attempt to make a purchase, was also unavailable. It was up for purchase at discounted price of Rs. 8,499 (original price Rs. 9,999) but not available in stock.
The Mi Wi-Fi Repeater 2 White can be purchased at Rs. 899, a discount of Rs. 100. Similarly, the Mi Router 3C White will be up for grabs at Rs. 899, against the listing price of Rs. 1,199. Other products under the offer include Crewneck T-shirt, business backpack, car charger, and phone covers.
Even the covers and cases were unavailable for purchase when this story was last updated at 12:18 pm.