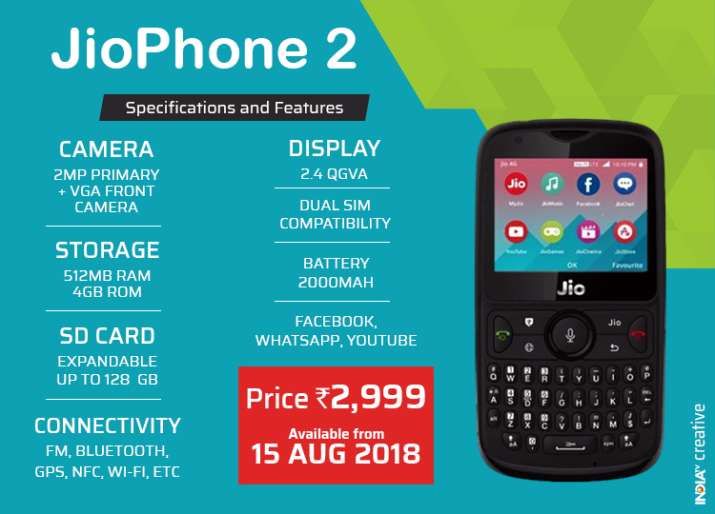 Speaking at company's 41st Annual General Meeting, Reliance Industries Chairman Mukesh Ambani unveiled JioPhone 2 along with Jio Giga Fiber. While JioFiber is meant to enhance users' experience by bringing connectivity directly to their home, JioPhone 2 is the advanced version of JioPhone, which was launched last year.
JioPhone 2: Price In India
JioPhone 2 will be available in the market from August 15 at a price of Rs 2,999. Ambani claimed that there are more than 25 million JioPhone users in India and with the launch of 2 they are taking the functionalities to the next level. In the keynote address, Ambani mentioned that the registration for fixed line broadband service will kick-start from August 15.
Jio Phone 2 will be available to consumers starting 15th August at ₹2,999.@reliancejio #JioPhone2 #RILAGM pic.twitter.com/amSjXhWxVL

— GizArena (@GizArenaBlog) July 5, 2018
JioPhone 2: Specifications And Features
JioPhone 2 will have features such as 4GB ROM, 512MB RAM along with expandable storage up to 128 GB. JioPhone 2 will operate on KaiOS and will have display of 2.4QVGA. It will also have 2-megapixel rear camera and VGA front-facing camera, as per reports. JioPhone 2 supports dual SIM, LTE along with connectivity such as FM, Bluetooth, GPS, NFC and Wi-Fi. It also has popular applications such as YouTube, WhatsApp and Facebook. These apps will operate on voice commands as well, which means users can play video with their voice. These features will be available to all JioPhone customers from August 15.
JioPhone 2 launched
JioPhone 2: Offers, Sale Date
So, if you already have a JioPhone, you can upgrade it to JioPhone 2 during Reliance Jio Monsoon offer, which will begin from July 21. You can replace your old Jio phone with the latest one at just Rs 501. You can also exchange feature phones of any brand for Jio Phone for Rs 501 during the offer.
''Jio has enabled Reliance to strategically reinvent itself as a Technology Platform Company. Digital platforms have become the new-age factories and service providers,'' said Ambani in his address.
Reliance 41st AGM: Mukesh Ambani unveils Jio Giga Fibre, Jio Phone 2 with Facebook, Youtube, WhatsApp; Check all new announcements
For all latest news, stay tuned our Facebook page