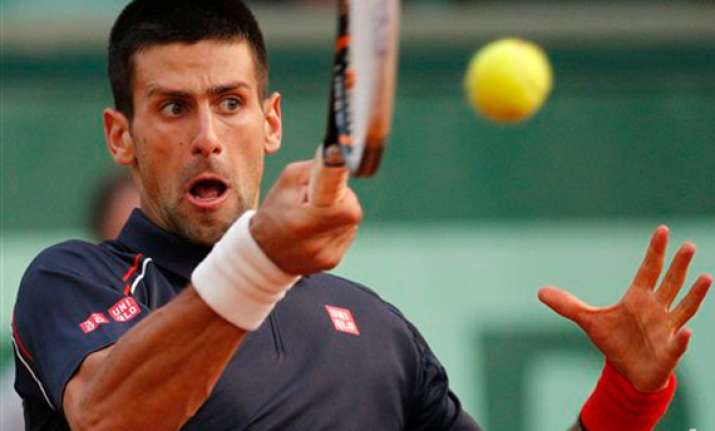 Paris, June 2:  On a busy day of tennis at the French Open, the top-ranked man and woman were left racing against the clock.
Because of a few long matches and a bit of a backlog from the previous day, both Novak Djokovic and Victoria Azarenka were late on court Friday and both completed third-round victories just as the sun was setting.
"Last 15 minutes was very hard," said Djokovic, who beat Nicolas Devilder of France 6-1, 6-2, 6-2. "It was very important for me to finish the match today. I wouldn't like to come back tomorrow and play a few games."
Azarenka's match was quicker, and ended a few minutes earlier. She defeated Aleksandra Wozniak of Canada 6-4, 6-4.
"I'm really glad I managed to finish today because it was already pretty dark in last two games," said Azarenka, who took over the No. 1 ranking after winning the Australian Open.
Roger Federer also advanced to the fourth round, despite being stretched to four sets for the second straight match. Maria Sharapova made it into the third round, but both third-seeded Agnieszka Radwanska and 2008 French Open champion Ana Ivanovic were eliminated.
On Saturday, Sharapova will be back on court for her third-round match, while defending champion Rafael Nadal and fourth-seeded Andy Murray will also be trying to reach the fourth round.
Djokovic was scheduled to play Friday in the fourth match on Court Suzanne Lenglen. But with Sharapova's postponed match ahead of his, and a five-setter in which Stanislas Wawrinka eliminated No. 11 Gilles Simon, the top-seeded Serb didn't begin 7:48 p.m.
He didn't waste any time against Devilder, but it still took him 1 hour, 44 minutes to win, with match point coming at 9:32 p.m.
"When I saw the schedule last night, I expected a long match between Simon and Wawrinka," Djokovic said. "Not that long, but long."
With the win, Djokovic extended his Grand Slam win streak to 24 matches. The 25-year-old Serb has won the last three Grand Slam titles, and he needs four more victories at Roland Garros to become the third player to hold all four major titles at the same time. Rod Laver was the last to do it, in 1969.
His next opponent will be Andreas Seppi of Italy.
"He's in best form I think in his life and won a tournament in Belgrade. So he's very famous in Serbia," joked Djokovic, whose family runs that event. "I think half of Serbia will support Seppi, no, because of winning the trophy."
Azarenka also had to worry about the descending night in her match, which finished at 9:29. Her match had been scheduled to start after Djokovic, but it was switched to Court 1.
"They wanted to move us to Court 2. Then didn't decide. Then wanted to move to Chatrier," Azarenka said. "So it was a little bit of a hustle.
"I managed to play, so that's important."
Federer didn't have to worry about the time, but he may have to worry about his game after needing four sets to beat Nicolas Mahut of France 6-3, 4-6, 6-2, 7-5.
"I think for bigger guys it's about, if you're able to move them around enough and they have to defend time and time again, this is maybe where you can expose some of their weaknesses potentially," Federer said. "I thought he did well. (I) struggled a little bit, but overall obviously I'm happy I came through."
For Sharapova, it was a second straight rout. Three days after winning with a "double bagel," the second-seeded Russian defeated Ayumi Morita of Japan 6-1, 6-1.
Sharapova has won three major titles in her career, but she still needs to win at Roland Garros to complete a career Grand Slam.
"With every round I'm going to be playing tougher opponents, and that's when you really want to kind of step it up and raise your level," Sharapova said. "That's what I'll try to do in the next round."