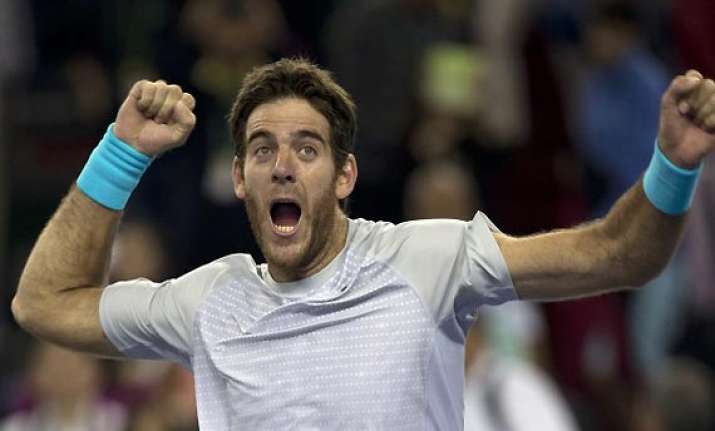 Shanghai: Argentine sixth seeded, Juan Martin del Potro amazed his fans after beating World No.1 Rafael Nadal 6-2, 6-4 in the semifinals here.
With the vital win on Saturday, Del Potro also confirmed his berth in the ATP World Tour Finals, reports Xinhua.
Del Potro, who just won his ATP title in Tokyo a week ago, carried on his top form and wrapped up the persuasive victory in one hour and 46 minutes. The Argentine used only 25 minutes to build up a 4-0 lead in the opening set. Nadal held serve for the first time in the fifth game but it was too far from enough to catch up with del Potro, who drew first blood at 6-2.
Nadal revitalised a little in the second set but del Potro continued to hit scorching winners from both sides with his deadly forehand. Nadal created four breaking points in the set but just could not convert on any one of them.
Del Potro took the decisive break in the third game of the set and never really tested in the remaining time.
Earlier, top seed and defending champion Djokovic withstood a strong challenge from seventh seed Jo-Wilfried Tsonga of France to prevail 6-2, 7-5. The opening set proved to be a routine job for the defending champion but he had to deal with a surging comeback from the Frenchman before sealing the victory in one hour and 33 minutes.
"It's important for me to get into another final. My serving was very controlled, very efficient. I was trying to open up the court and move him around. I know he likes to have targets, he likes to play from the backhand corners so I tried not to let him into that comfort zone," the Serb said.
Djokovic owns a 9-3 edge in the head-to-head against del Potro with the Serb prevailing in their most recent meeting, a five set thriller at the Wimbledon semifinals this year.