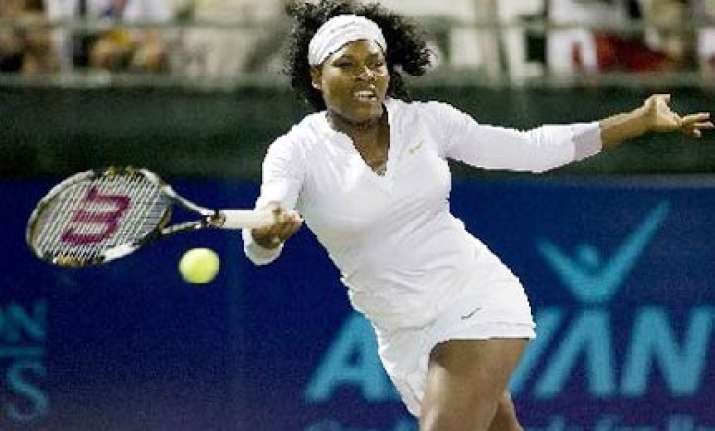 Perth, Australia: No. 1-ranked Serena Williams will combine with John Isner to represent the United States in a star-studded field at the Hopman Cup international mixed teams tennis tournament in January.
Williams and Isner will join the Serbian pair of Novak Djokovic and Ana Ivanovic, Belgium's Justine Henin, Australia's Lleyton Hewitt and France's Gael Monfils in the tournament which runs Jan. 1-8.
Djokovic won the Australian Open in 2008 after reaching the Hopman Cup final with Jelena Jankovic and says the tournament provides an ideal prelude to the season's first Grand Slam event.
"I'm looking forward to going back to the Hopman Cup," Djokovic said. "For me it was a good preparation for the Australian Open."
Williams will partner Isner, the 6-foot-9 American best known for winning the longest match in professional tennis history. He beat Frenchman Nicolas Mahut 70-68 in the fifth set of their 11-hour, 5-minute first-round match at Wimbeldon this year.
World No. 17 Monfils will be partnered by 2009 junior world No.1 Kristina Mladenovic and world No. 14 Henin by Steven Darcis. Sam Stosur has yet to confirm whether she will partner Hewitt in the Australian team as she did in last year's tournament.
Tournament director Paul McNamee said he was still hopeful of attracting world No. 4 Andy Murray, who reached the final of last year's tournament with teenager Laura Robson.
"It's a spectacular lineup," McNamee said. "There is potential for some really great match-ups for both the men and the women, not to mention the mixed."  
Confirmed lineups: United States: Serena Williams, John Isner.  Serbia: Ana Ivanovic, Novak Djokovic  Belgium: Justine Henin, Steve Darcis.
France: Kristina Mladenovic, Gael Monfils. AP