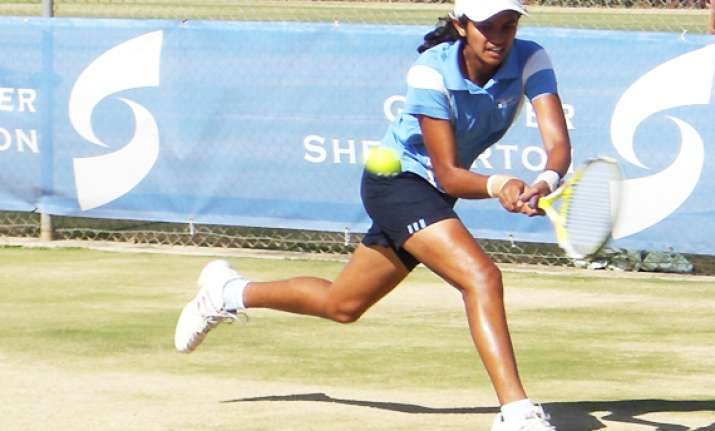 Pune, Dec 13: Delhi's Rishika Sunkara was the lone Indian to make it to the second round as, even as Kyra Shroff and wildcard Shramada Balu went down in the first round of the USD 10,000 LIC-ITF Women's Tennis Championships singles contest at the Balewadi Sports Complex here today.

Sunkara scored a 6-4, 6-2 win over qualifier Varunya Wongteanchai of Thailand in an hour and 42 minutes.

Sunkara broke the young Thai player in the second game in the first set and the 4th and 6th games in the second set.

Meanwhile, third seed Peangtarn Plipuech of Thailand outplayed qualifier Kyra Shroff 6-3, 6-1, while last week's runners up Deniz Khazaniuk scored a comfortable 6-2, 6-3 win over wild card entrant and local girl Ashvarya Shrivastava.

In the best match of the day, fourth seeded Frenchwoman Celine Cattaneo survived a scare before scoring a 6-1, 6-7(3), 6-4 win over another wildcard Sharmada Balu in a 2-hour 49 minute match.

China's Jia-Jing Lu recorded the first upset of the event knocking out winner of the Solapur leg and fifth seeded Ukrainian Anna Shkudun 6-3, 3-6, 6-4 in a high quality match lasting two hours and 41 minutes.

In the doubles event, the experienced Indian pair of Rushmi Chakravarthi and Sheethal Goutham made it to the quarterfinals scraping past the Japanese pair of Sachie Ishizu and Mai Minokoshi 4-6, 6-3, 10-7.

Sharmada Balu partnering Celine Cattaneo also made it to the last eight scoring a 6-3, 6-4 win over Miyabi Inoue and Silvia Njiric of Croatia.