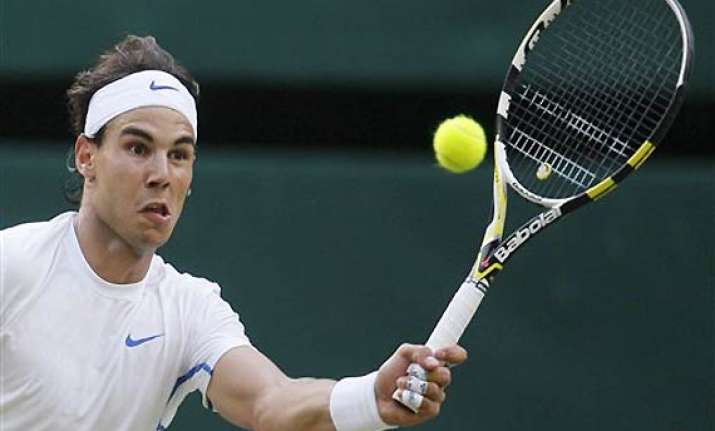 London, July 2: Rafael Nadal insists he will not be distracted by the pursuit of Grand Slam history or the loss of his world number one spot to Novak Djokovic when he takes on the red-hot Serb in Sunday's Wimbledon final. 

Defending champion Nadal, on a 20-match winning streak at the All England Club, is adamant the prospect of a third Wimbledon title is the only statistic that occupies his mind. 

Nadal, the champion in 2008 and 2010, will be appearing in his fifth Wimbledon final while Australian Open winner Djokovic will be making his debut in the title match. 

The odds are stacked in the top seed's favour, but the Spaniard believes that even victory will not necessarily mean he is destined to overhaul Roger Federer's record of 16 Grand Slam titles. 

"The number 16? I think about the number 10. That's what I have at home. I don't have 11, I don't have 12, I don't have 15, or 16... 16 is very far," said Nadal. 

"I believe the number is not going to stop there. Roger will have chances to win more. Seriously, this is not my goal. I am very happy about my 10. 

"The career of Roger is probably impossible to repeat. If you look at the history of tennis, he's the player with more Grand Slams in I don't know how many years of history of the tennis, 100, 125 years?" 

Nadal, still only 25, also shrugged off the loss of his world number one ranking to Djokovic, whose march to the top has been driven by a record of 49 wins in his last 50 matches. 

"I said last year when I was No. 3 or No. 4 that being No. 1 wasn't a big goal for me," he explained. 

"For me the big goal is be competitive, be healthy. Today I lost the No. 1. One guy played unbelievable the first half of the year so he's the new No. 1. We just can congratulate him because what he did this first part of the season is something really impressive. 

"I am happy about how I did. I think in normal conditions I would be No. 1 or a lot of chances to keep being the No. 1 for me for a few more times." 

Nadal leads Djokovic 16-11 in head-to-head meetings although the Serb has won all four of their matches in 2011 -- the Masters finals on hard courts in Indian Wells and Miami as well as on clay at Madrid and Rome. 

However, Nadal has won all five of their matches in Grand Slam events. 

The Spaniard was also impressive in dismantling Andy Murray's semi-final challenge on Friday where he lost the first set before claiming a 5-7, 6-2, 6-2, 6-4 win. 

Nadal hit 37 winners and committed just seven unforced errors with four of those in the first set. 

Djokovic believes his outstanding record in 2011 against Nadal can only work in his favour. 

"This year we have played so many finals. Obviously even though it's a different surface, I believe I can win against him," said the Serb, who made the final by beating France's Jo-Wilfried Tsonga 7-6 (7/4), 6-2, 6-7 (9/11), 6-3. 

"He's playing great on grass. He has still a lot of confidence and he knows how it feels to win a trophy at Wimbledon. I have nothing to lose. I'll try to take it to him because I don't want him to control the match." 

Djokovic is the sport's in-form player with his French Open semi-final loss to Federer his only defeat in his last 50 matches, a remarkable run which stretches back to Serbia's maiden Davis Cup triumph last December. 

The 24-year-old, who added this year's Australian Open title to his 2008 Grand Slam breakthrough in Melbourne, insists that Wimbledon was always the one major he dreamed of winning when he was growing up in Belgrade. 

"I was always trying to visualise myself on Sunday, the last Sunday of Wimbledon. Being in the Wimbledon final it's 'the thing' for me," said Djokovic. 

"It's just the tournament that I watched first. First time I watched tennis or anything related to tennis was Wimbledon when I was four, five. I remember always Wimbledon being 'the one'."