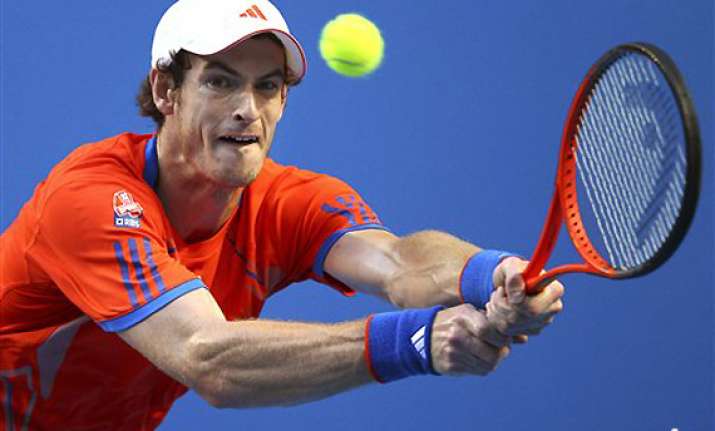 Melbourne, Jan 21: Unlike some of his previous experiences at the Australian Open, Andy Murray said he was having some fun on Saturday night. Time and time again.

The losing finalist the last two years -- in 2010 to Roger Federer and last year to Novak Djokovic -- Murray genuinely enjoyed himself in a 6-4, 6-2, 6-0 win over Michael Llodra of France in a third-round match.

"A lot of fun rallies, especially toward the end of the second set," Murray said. "Every point seemed to be a fun point -- he was coming up with some unbelievable gets on the volleys. It was a fun tennis match, which isn't normal at the Grand Slams."

Murray speaks from experience on that last point. In his first appearance in a major final -- the 2008 U.S. Open -- he lost to Federer, without winning a set. Ditto in Australia, giving him three straight-sets losses in three Grand Slam finals.

But with new coach Ivan Lendl, there seems to be pervasive feeling of optimism, although perhaps a little too soon to be talking about him ending that long-standing streak of no British man having won a Grand Slam singles title since Fred Perry in 1936.

Lendl lost in four Grand Slam finals before winning the 1984 French Open at the age of 24, the same age as Murray is now. The American-based Czech won seven more Grand Slam titles in a career spanning 16 years, so if anything, Lendl knows what Murray is going through.

Llodra thinks it's too soon to notice any difference in Murray's game based on Lendl's short tutelage.

"It's difficult to say if Lendl for three matches he can be helping," Llodra said. "For sure, he helps a lot. But we cannot see on this match.

"I know Andy pretty well. He's still moving good. He's still serving and get unbelievable shot from the baseline."

Murray joked on court about Lendl, a noted golfer, spending a lot of time on local courses here and not really doing too much to help his game at such an early stage.

"We've been just sort of keeping it pretty low-key," Murray said. "We haven't been practicing here on the days off. We've been practicing off site, just getting our work done, relaxing. That's been it so far.

"He'll be seeing things in my matches that I can't work on just now, so I'll do that after the tournament's done obviously."

One area where Murray won't need help from Lendl is scouting his next opponent, Mikhail Kukushkin, who had an upset five-set win over 14th-seeded Gael Monfils of France earlier Saturday.

Murray beat Kukushkin in a first-round match at the Brisbane International two weeks ago. The Scot lost the first four games before he rallied to beat the Kazakhstan player 5-7, 6-3, 6-2.

"He was very good when I played him ... the first six games he was unbelievable, he hardly missed a ball," Murray said. "He was going pretty much down the line on every shot and cleaning lines.

"I saw a little bit of the match today. He's obviously in good shape."

Murray is feeling the same way as he enters the second week at Melbourne Park.

A win in the fourth round would put him into a potential quarterfinal against Jo-Wilfried Tsonga, then a possible semifinal against Djokovic.

"My movement was way better than the first two matches, I moved great," Murray said of Saturday's match in which he made only 11 unforced errors. "That's a good sign for me because when I move well, the rest of my game goes well. Tonight I did a lot of things better, so I look forward to the next one."