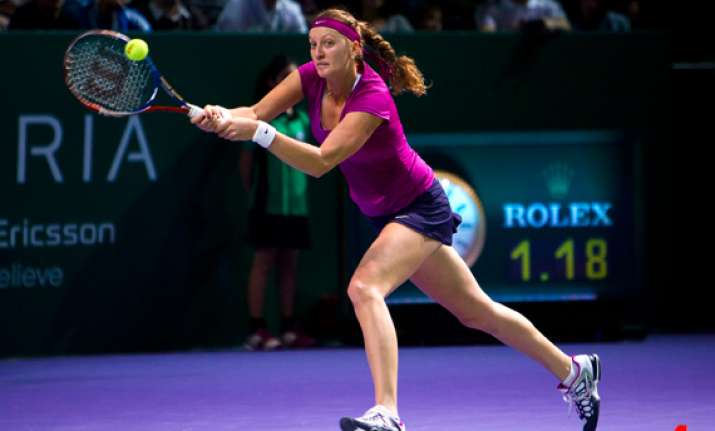 Istanbul, Oct 31: Wimbledon champion Petra Kvitova won her first WTA Championships title on Sunday by beating Victoria Azarenka 7-5, 4-6, 6-3 in the final, a victory that also puts her at No. 2 in the world rankings.

Kvitova raced to a 5-0 lead in the first set, but Azarenka rallied to level it at 5-5. The Czech player finally converted her fifth set point when Azarenka's forehand sailed out.

Azarenka of Belarus settled into a consistent baseline game in the second set, and clinched it with a forehand winner on the line. Kvitova saved three break points in the first game of the final set and then broke herself to take the early lead.

Kvitova, 21, started the year outside the top 30 and was playing in the season-ending tournament for the first time.

"It's unbelievable to play here," said Kvitova, who beat Azarenka in the Wimbledon semifinals on her way to winning her first Grand Slam title this year.

Kvitova has won six titles this year, the same number as No. 1 Caroline Wozniacki and twice as many as Azarenka.

"I didn't expect that I would be sitting here as a champion. It's really a big step for me," Kvitova said afterward.

She attributed her achievements this year to improvements not only in her game, but also in fitness and mental strength. Staying healthy was key, along with the support of coach David Kotyza and the rest of her team.

"It's hard to lose but I'm glad I lost to such a champion," Azarenka said during the awards ceremony. "I gave it all today."

Azarenka said Kvitova started well, catching her "off guard."

"She has a really big serve," the Belarusian said. "In the important moments, it's really saving her ... I could break her more often."

The Czech holds a 4-2 head-to-head record over Azarenka, who was playing in the championships for the third time and will return to a career-high No. 3 in the new rankings by reaching the final. It was the first time she progressed beyond the round-robin stage.

Both players will overtake Maria Sharapova, who had a chance to surpass Wozniacki as No. 1 going into the tournament, but withdrew with an ankle injury after losing her first two group-stage matches.

Kvitova took home $1.75 million and Azarenka collected $775,000.

About 13,700 spectators watched the final, continuing a high attendance level for the weeklong tournament for the top eight players in the world. Turkey does not have a strong tennis tradition, but low ticket prices and heavy government support boosted the event, which was held in Istanbul for the first time.

WTA chief executive Stacey Allaster said the high turnout invited comparisons to the "glory days" of the event, when it was held at Madison Square Garden in New York City decades ago.

Istanbul's ability to host the tournament was seen as integral to the national campaign to host the 2020 Olympics. The sprawling city of more than 13 million has built or renovated major stadiums, and officials seek to alleviate the city's heavy traffic congestion.

"The best way to go to the Olympics or to bid (for the) Olympics is to show that you are good in organizing great events," said Francesco Ricci Bitti, president of the International Tennis Federation and a member of the International Olympic Committee.

Before the final, an announcer asked the crowd not to smoke, a request that would not be necessary at more established tennis venues around the world. The fans, though, displayed an affinity for the game, applauding at key moments or when a momentum shift was imminent.

"Azarenka, We love your scream," read a poster held up by one fan. Azarenka exhales loudly when she hits the ball.

Kvitova often let out a shriek when she hit winners, doubling over with a clenched fist in a show of resolve. Azarenka said the loud noise didn't bother her.

"I don't care about that," Azarenka said. "You know, whatever helps players to be better. I mean, that's her own way. I have to respect that. I just think that every player, as every person who is spectator or whatever, has to respect the players for what they do on the court."

Greek chair umpire Eva Asderaki announced the score in Turkish and then English.

Last month, Serena Williams was cited for a code violation and fined $2,000 for verbally abusing Asderaki during her loss to Samantha Stosur in the U.S. Open final.

Azarenka said she will fly to Belarus on Monday for three weeks of vacation, and she also plans to attend a Rihanna concert in Switzerland. Kvitova has more work ahead, leading the Czech Republic in its first Fed Cup final in more than 20 years, playing Russia in Moscow.