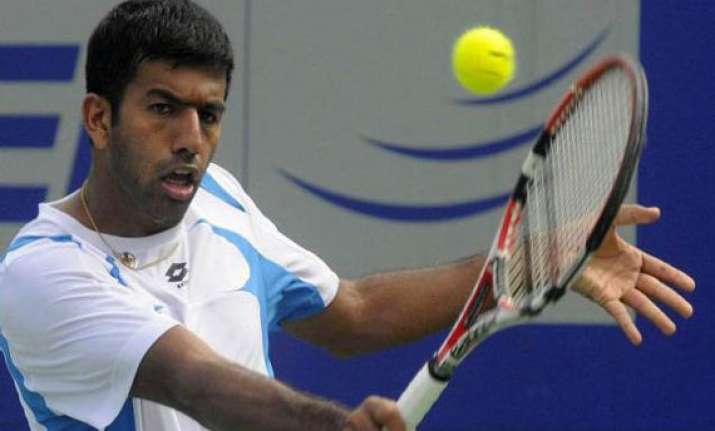 New Delhi, Dec 31: He was unwittingly dragged into the biggest controversy to rock Indian tennis in 2012, but ace doubles player Rohan Bopanna still considers the past 12 months as "one of the best" of his career.
"It's been a great year with all the ups and downs. It's definitely one of my best years as I defended my Paris Masters title, making the World Tour finals, playing the Olympics, winning a 500 event in Dubai and reaching two Master series finals. It's been one of my best years on Tour," Bopanna told PTI in an interview.
Bopanna was involved in an ugly selection row with the AITA ahead of the London Olympics involving his then partner Mahesh Bhupathi and Leander Paes.
After the Olympics, Bopanna and Bhupathi were banned by the AITA for not abiding by the selector's decision although the court had stayed that decision later on.
Bopanna won the BNP Paribas Paris Masters and Dubai Duty Free tournament while ending runners-up in Barclays ATP World Tour Doubles Finals, ATP World Tour Masters 1000 Shanghai and ATP World Tour Masters 1000 Cincinnati partnering Bhupathi in a largely successful year which helped the 32-year-old Bangalorean swell his doubles career titles tally to seven.
Bopanna, who would be seen in action at the Aircel Chennai Open with new partner Rajeev Ram, said the 18th edition of the tournament boasts of a formidable doubles line-up.
"It's a very formidable doubles line-up. Every year, it has been a tough field and 2013 also you have Bhupathi/Daniel Nestor and Paes/Roger Vaselin in action.
Stanislas Wawrinka is also a formidable name who always plays doubles with Frank Dancevic from France.
"There are couple of young teams also out there who have been playing the doubles for a while. It's going to be a tough tournament from the first round itself, so we can't slack at any time. I am looking forward to a good start to the season," he said.