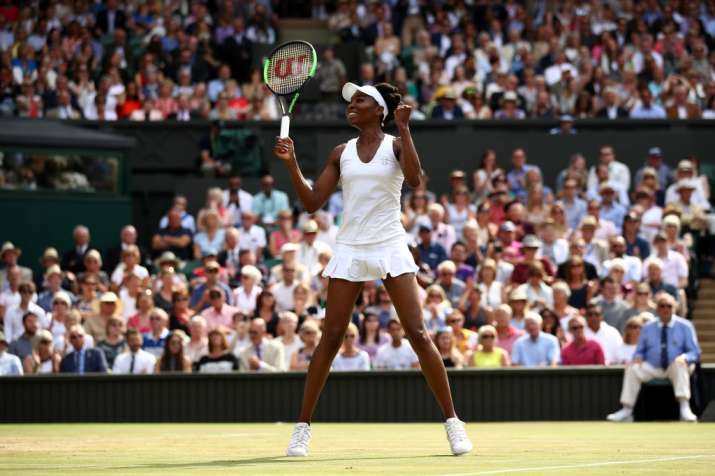 Seven-time Grand Slam Champion Venus Williams has her plate full at the moment as she has been preparing well for the fourth major of the 2017  season (U.S. Open) as well to become a new aunt with his younger sister Serena due to give birth to her first child next month. The American tennis star stormed into the second round of the 2017 Western and Southern Open in Cincinnati after registering a thumping 6-2, 6-0 win over U.S. compatriot Alison Risk in a one-sided opening-round clash that lasted for more than an hour.
While Venus has been doing pretty well on-court, the 37-year-old is doing some online shopping off the court these days for Serena's baby.
"I have a lot of things in my cart that I'm about to order. I talked to my mom yesterday. I'm like, 'Mom, what do you really, really need?' So she really gave me the low-down," Sport24 quoted Venus, as saying.
"So I'm going to get this stuff and as things progress I'll see what I need after," she added.
Williams, 23-time Grand Slam champion, who was pregnant when she bagged the Australian Open in January, had earlier expressed her strong desire to make a return to tennis next year.
The tennis star, who accidently revealed her pregnancy in April when she posted a picture of herself on Snapchat captioned "20 weeks, is due to give birth during the U.S. Open.
Venus, who made a third-round exit in Toronto last week, said that she is determined to play freely and put her menacing best when she head into this year's final Grand Slam, beginning August 28 in New York.
"I just want to play free and feel confident. That's important. I need to play my best at all the big events. Today was about being measured and being patient and trying to just capitalize on the match," she concluded.
Venus will be chasing her third U.S. Open crown next month after reaching the Wimbledon and Australian Open finals this year.
(With Agency Inputs)