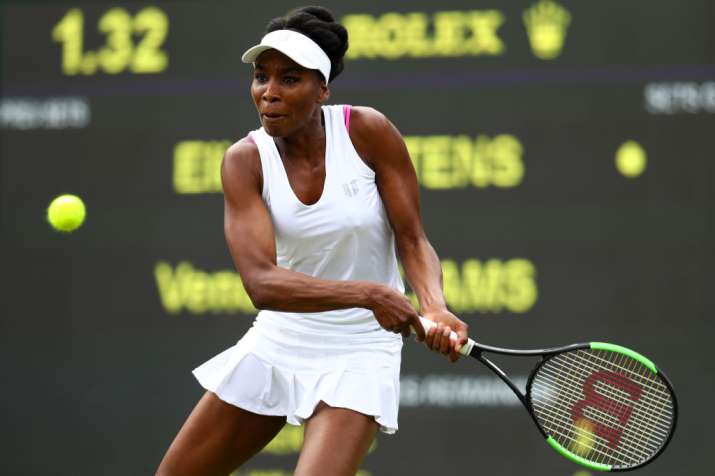 Venus Williams wiped tears from her eyes during her Wimbledon news conference Monday. She shook her head, fiddled with her hair and sat, silently. The wave of emotion came as Williams attempted to answer a question about the two-car crash that police say she caused June 9 in Florida; a 78-year-old passenger in the other vehicle died 13 days later. 
Williams' 7-6 (7), 6-4 victory over Elise Mertens at the All England Club was the five-time Wimbledon champion's first match anywhere since the accident — and the first time she has spoken about it publicly.
Well, tried to speak about it. She began by saying: "There are really no words to describe, like, how devastating and ..."
Williams paused.
"Yeah, I'm completely speechless," she briefly continued.
"It's just ..."
"Yeah, I mean, I'm just ..."
Then she sat there, silently. Eventually, the moderator seated next to Williams temporarily halted the news conference, allowing the 37-year-old American to leave the room for a bit. She huddled nearby with her older sister, Isha, before returning. When the proceedings resumed, the moderator asked that the topic of the crash be avoided, saying, "Venus is willing to take a couple more questions about other things. Tennis, perhaps."
Venus Williams emotional at #Wimbledon after being asked after car accident -- heavy situation pic.twitter.com/LSdkvumiw0

— Brandon Radcliffe (@BrandonWhatsill) July 3, 2017
The 10th-seeded Williams' return to action, and difficulty in addressing the off-court matters with the media — just last week, the police report was released, and a day later, the estate of the man who died sued her — were the most noteworthy happenings on Day 1 at the grass-court Grand Slam tournament.
World No.1 Murray was asked about what advice he might give Williams.
"I don't know exactly what happened. I just read kind of more, like, headlines, rather than the whole stories about it. But it's obviously horrific when anything like that happens," he said. "I'm sure it must be tough for her to focus on her tennis just now. But I don't know how you advise someone on that. ... Unless you've been through it, you don't know. You don't know what to do."
Williams has not been cited or charged, and police say she was not drunk, on drugs or texting, but that she drove her SUV into the path of a car carrying a married couple. Williams, who owns a home near the crash site, told investigators her light was green when she entered the six-lane intersection but she got stopped midpoint by traffic and didn't see the other car before she crossed their lane.
"I mean, obviously, I think it would weigh on any human being, and Venus is no different," said Williams' coach, David Witt. "Venus is the nicest person, and (this is) just some random thing that could happen to anybody, any day. But she's looking to focus on the tennis. I'm sure it's weighing on her but we're going day by day and getting good practice in. Once she enters the court, I think her mind's on the match and tennis and winning here at Wimbledon."
Asked Monday how difficult the recent weeks have been, Williams replied: "Tennis is still the love of my life. You know, it gives me joy."
She is a former No. 1 and the owner of seven major singles titles, along with 14 Grand Slam doubles titles, all won with her younger sister, Serena.
Against Mertens, whom she beat 6-3, 6-1 on the red clay at the French Open last month, Williams played unevenly.
She took a 3-0 lead, then let that evaporate. She led 6-3 in the tiebreaker, then needed five set points to close it. She fell behind 2-0 in the second set, then took five of the next six games. She failed to convert two match points at 5-3, before a 33-minute rain delay. She needed three more match points to finally end the first match of her 20th Wimbledon appearance.
"I have no idea what tomorrow will bring. That's all I can say about it," Williams said. "That's what I've learned."