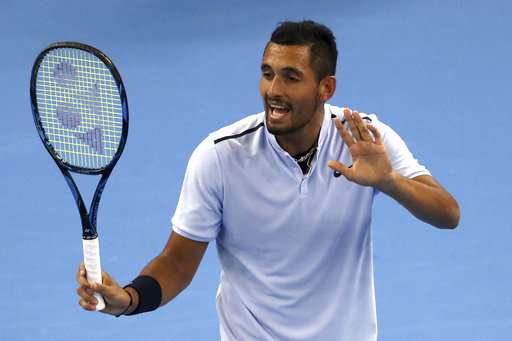 A year after being fined for "tanking" a match at the Shanghai Masters, Nick Kyrgios quit another one altogether. The temperamental Australian argued several times with the chair umpire during his first-round match against Steve Johnson on Tuesday. After losing the tiebreaker 7-6 (5), Kyrgios shook hands with Johnson at the net and then with the chair umpire before packing his bags and walking off the court.
Serving at 30-30 in the 12th game of the first set, a forehand by Kyrgios was called out. The Australian challenged the call and it was overruled. Kyrgios then hit two balls in anger and was assessed a code violation warning.
At the change of ends in the tiebreaker, Kyrgios was leading 4-2 but was annoyed that fans were being allowed to come into the court. Kyrgios lost the next point and then started to complain and curse, which earned him an audible obscenity code violation. He was docked a point to put the score to 4-4.
When the set was done, so was Kyrgios. He left the court without explanation.
Last year, Kyrgios was suspended by the men's tour for "tanking" a match and insulting fans following a second-round loss to German qualifier Mischa Zverev at the Shanghai Masters. Kyrgios gave little effort during the 6-3, 6-1 loss, even patting easy serves over the net and turning away before his opponent's serve had crossed the net.
Kyrgios arrived in Shanghai for this year's tournament following a 6-2, 6-1 loss to Rafael Nadal in the China Open final.
Also, 12th-seeded John Isner beat Serbian qualifier Dusan Lajovic 4-6, 7-6 (5), 7-6 (6) on a day with temperatures soaring past 32 degrees C (90 degrees F).
"The conditions were brutal," Isner said. "It felt like Atlanta in August. I think that could've been the hottest match I played all year."
Ryan Harrison also advanced, beating Chinese wild-card entry Zhang Ze 6-2, 6-3, while U.S. Open finalist Kevin Anderson defeated Adrian Mannarino 6-3, 6-1.