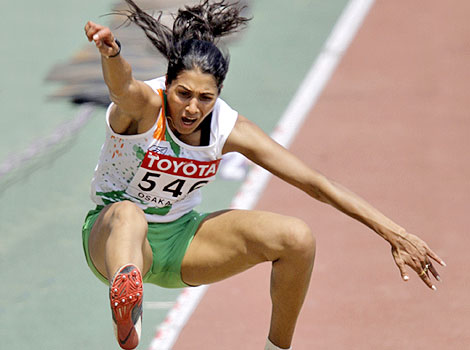 Thirteen years after the 2004 Athens Games, India's most decorated female athlete Anju Bobby George may earn herself an Olympic silver medal if her demand for an investigation into the long jump event results are successful. 
Anju, India's only athlete to win a medal at the World Track and Field Championships, along with her husband Bobby George and two other female athletes have demanded for an investigation into the event they contested 13 years ago, where they believe they were cheated. 
The Athletics Federation of India (AFI) has also come in support of Anju's demand, who has alleged that the performance of the Russian trio – Tatyana Lebedeva, Irina Meleshina and Tatyana Kotova – who were on the podium in that order – were suspicious as they had been banned later for failing dope tests. 
While the three didn't test positive during the competition in 2004, they were later caught for doping and Anju has demanded that the Russian trio should be stripped of the Athens Olympics medals like Marion Jones and Lance Armstrong. 
Australia's Bronwyn Thompson, who stood fourth in that event and Britain's Jade Johnson, who stood at sixth position behind Anju are also fighting for elevation to medals along with Anju. 
Meanwhile, the AFI has been in touch with the UK Athletics and Athletics Australia to formulate a joint action plan.
In January, Lebedeva, who won gold in the Athens event, was stripped of the two silver medals she won at Beijing 2008 after retests of her samples found her positive for the steroid turinabol.
Athens silver medallist Simagina was given a two-year ban in 2012 after a positive drug test ruled her out of the London Games, and Kotova, who won bronze, was stripped of her 2005 World Championship medal after retesting of her samples in 2013 found she had also used performance-enhancing drugs.
As per the rules, dope test samples of athletes must be preserved for ten years. Despite the samples of the three Russians having been destroyed, Anju's husband Bobby George is confident of finding support as he pushes the cause of the three athletes. 
"I believe there are people sitting in some corner of the world with solid evidence to prove that we have a clear case, and we are confident of getting some advantage. Once it comes to the international media's notice, someone sitting in Australia or England or maybe Russia itself will come forward, I feel," Bobby George was quoted by Times of India as saying.