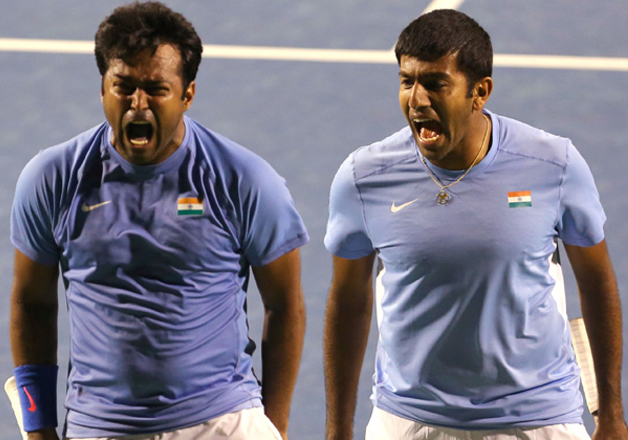 Chandigarh: Veteran Leander Paes and Rohan Bopanna outclassed the Korean pair of Seong Chan Hong and Hong Chung in straight sets to guide India to the Davis World Group Play-offs as the hosts took an unassailable 3-0 lead in the Asia/Oceania Group I tie, here today.
The Indian pair dished out a dominations performance to trounce the visitors 6-3 6-4-6-4 in just one hour and 41 minutes at the grass courts of Chandigarh Club.
Saketh Myneni and Ramkumar Ramanathan had won their respective singles yesterday to hand India a 2-0 cushion.
The reluctant partners for the Rio Olympics did not face any competition from the Koreans in what was their only competitive match together before the Games.
Even as the Koreans managed to break Paes in the third set, they did not present any challenge to the Indians. But it was a treat for the fans, little more than a thousand, to watch the Indian pair cruise to the win under overcast and friendly conditions.
Captain Anand Amritraj would be delighted to see that his idea of playing on the grass worked out for his side.
Since the rain stayed away yesterday and this morning, the court played much better today, offering good bounce.
Sending down two double faults in the opening game was the only blemish for Bopanna, who kept tormenting Chung and Hong with his booming serves in the range of 200kms/hour throughout the match.
Such was the domination of the Indians that together they lost only 17 points on their serve. In the first Bopanna lost only one while Paes lost only two points on his serve in the second set.
Out of 17, 10 they lost only in the third set, may be because they got little complacent.
In the first set the Indians took lead when they broke Hong in the eighth game. Paes scored a volley winner to earn two chances for the side and Bopanna finished it with another winner.
Bopanna served out the set in the next, finishing it with an ace, his sixth.
They broke Hong in the third game of the second set when Paes ran to his left and made a return and the Koreans failed to pick up a low volley.
That mini lead stayed with the Indian and Bopanna again served out the set.
The Indian pair broke left-handed Chung in the first game of the third set to set the tone. Bopanna saved a break chance in the fourth before Paes dropped serve in the sixth. But the home players immediately broke back and sealed the tie in the 10th game.