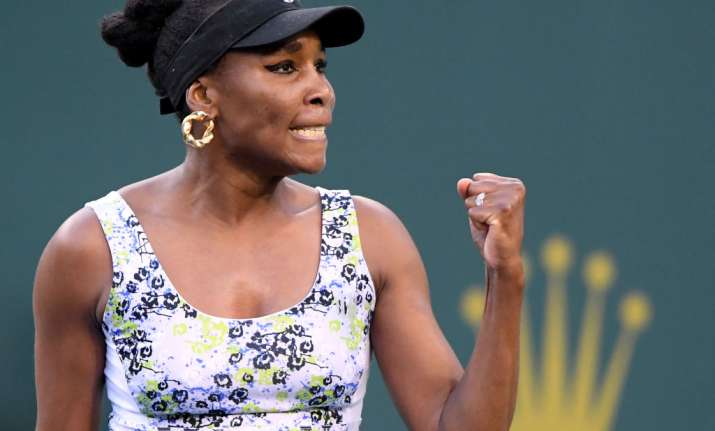 Venus Williams defeated Carla Suarez Navarro 6-3, 6-2 to reach the semifinals of the BNP Paribas Open, where she first broke out as a 16-year-old qualifier in 1997.
Williams has never reached the final of the desert tournament and to do she'll have to get by 20-year-old Russian Daria Kasatkina, who has yet to drop a set in four matches at Indian Wells.
At 37, Williams is the oldest player in the draw. She made the quarterfinals in her tournament debut in 1997 and notched her first win over a top-10 player before losing to eventual champion Lindsay Davenport.
Williams took 71 minutes to put away Suarez Navarro for the fourth straight time on Thursday. Playing in swirling winds, Suarez Navarro committed 29 unforced errors to 17 for Williams.
"I don't care what's happening on court, I just try to execute my game," Williams said.
Kasatkina needed just 58 minutes to dispatch former No. 1 Angelique Kerber 6-0, 6-2 in the quarterfinals.
The Russian has knocked out U.S. Open champion Sloane Stephens and No. 2-ranked Caroline Wozniacki along the way.
"Maybe, yeah, from the side or with the score it looks like it was simple, but of course it's not," Kasatkina said. "I knew that in one moment if I will lose focus just for a second, they will come back and then the big battle, five hours again, will start."
She gave Kerber no chance.
The German never managed a break point against Kasatkina's serve. The Russian connected on 82 percent of her first serves, winning 22 of 32 first-serve points.
"This one I will try to forget as fast as possible," Kerber said.
In the men's quarterfinals, Borna Coric of Croatia upset No. 7 seed Kevin Anderson 2-6, 6-4, 7-6 (3) for his first win in four tries against the South African.
Coric next faces either No. 1 Roger Federer or Chung Hyeon of South Korea, who were to meet Thursday night.
Besides Stephens and Australian Open winner Wozniacki, Kasatkina has beaten the other current Grand Slam titleholders in the past year: French Open winner Jelena Ostapenko and Wimbledon champion Garbine Muguruza.
That's part of the reason for her impressive rise in the rankings over the last three years, and she's guaranteed to make her highest move yet as a result of her deep run in the desert. She came into the tournament at No. 19, two spots lower than her career-best. She could move to 15th or 16th, and has a shot at the top 10 if she would win the title.
But that's more than she cared to consider, especially against Kerber.
"Actually, my head was quite empty," she said, smiling.
Whenever she can get away, Kasatkina can be found in Barcelona. Her favourite soccer team is there, and she loves the architecture, the seaside location, and the food, with paella and tapas her top choices. And a little bit of wine, too, even though she's not 21.
"In Europe, it doesn't matter," she said. "With good company, of course, you can have a glass or two."
Kasatkina was hoping to play her semifinal at night on Friday and she got her wish.
"I just want to be on the central court, prime time," she said, smiling. "In the evening, something special is coming from here, from the heart."
The Williams-Kasatkina semi is a rematch of their rain-delayed third-round meeting at Wimbledon in 2016. Williams won 10-8 in the third set.
The other women's semi is already set: No. 1 Simona Halep against Japan's Naomi Osaka, another 20-year-old making a huge run through the draw. Osaka's victims have included Maria Sharapova, No. 31 Agnieszka Radwanska and No. 5 Karolina Pliskova.