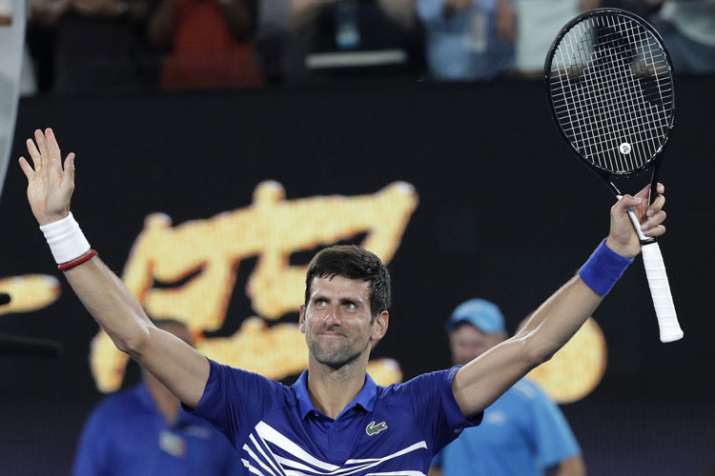 Novak Djokovic opened his quest for a record seventh Australian Open title and his 15th Grand Slam singles championship with a 6-3, 6-2, 6-2 win over American qualifier Mitchell Krueger.
Djokovic had a worry-free win, breaking his opponent in the fifth game of the third set to help ensure he'd finish the match in a tidy 2 hours, 3 minutes.
The No. 1-ranked Djokovic received the luck of the draw when both of his top rivals, No. 2 Rafael Nadal and third-seeded and defending champion Roger Federer, were placed in the other side of draw. That means Djokovic could not face either Nadal or Federer until the final on Jan. 27.
Djokovic's highest-ranked opponent in his half of the draw is No. 4 Alexander Zverev, who also won Tuesday.
ALEX ZVEREV OFF TO WINNING START
"Being No. 4 in the world, normally people reach their limits...I still feel like I have so much room and I still have so many kind of holes in my game where I can improve."

The sky's the limit for Sascha Zverev ✈️#AusOpen pic.twitter.com/b976zmFzzt

— #AusOpen (@AustralianOpen) January 15, 2019
Fourth-seeded Alexander Zverev broke Aljax Bedene's serve in the seventh game of the third set and went on to complete a 6-4, 6-1, 6-4 win over the Slovenian player to reach the second round at Melbourne Park.
Zverev finished last year strongly, winning the ATP Finals with victories over Roger Federer in the semifinals and Novak Djokovic in the final. At 21, he became the youngest winner of the event since Djokovic in 2008 and the first German champion since Boris Becker in 1995.
Zverev, who also won three other tournaments in 2018, hasn't advanced beyond the third round in three previous trips to the Australian Open.
WARWINKA SENDS GULBIS PACKING
Following a Gulbis retirement, 2014 #AOChampion @stanwawrinka is into R2 | 3-6 3-1 Ret.#AusOpen pic.twitter.com/7UtK9Sad1B

— #AusOpen (@AustralianOpen) January 15, 2019
Stan Wawrinka extended a 14-year streak at the Australian Open with a little help from Ernests Gulbis' back.
Wawrinka won the Australian Open in 2014 for his first Grand Slam title and has now reached the second round in each of his appearances at Melbourne Park.
He won his first-round match over Gulbis when the Latvian player had to retire at 3-6, 3-1 because of a back injury. Gulbis received treatment on his back earlier in the match.
Wawrinka, now ranked 59th, did not win a title in 2018, with his best result being a pair of semifinal results. He reached the quarterfinals at Doha ahead of the Australian Open.
RAONIC EASES INTO ROUND 2
HUGE 👊@milosraonic holds off Nick Kyrgios, def. the Australian 6-4 7-6(5) 6-4 in front of a packed @melbournearena.
#AusOpen pic.twitter.com/2vxe5j6FkB

— #AusOpen (@AustralianOpen) January 15, 2019
Milos Raonic hit 30 aces and never faced a break point to beat local hope Nick Kyrgios 6-4, 7-6 (5), 6-4 in a first-round match at Melbourne Park.
It was the seventh meeting between the pair and the first since 2016, and Raonic has now taken a 4-3 advantage. Their first three meetings were all in majors, with Raonic winning at the French Open and Wimbledon in 2014 and Kyrgios at Wimbledon in 2015.
Raonic next plays former champion Stan Wawrinka, who advanced when his opponent Ernests Gulbis retired in the second set of their match with a back injury.
NISHIKORI FIGHTS BACK TO BEAT MAJCHRZAK
"I'm really happy to be back."

We're really happy you are back too @keinishikori 😀#AusOpen pic.twitter.com/ZOrUm89CLm

— #AusOpen (@AustralianOpen) January 15, 2019
Kei Nishikori rallied from two sets down and won 10 consecutive games before Kamil Majchrzak retired with the score at 3-6, 6-7 (6), 6-0, 6-2, 3-0 at Margaret Court Arena.
Nishikori had a chance to win the second set, up 30-0 on the Polish player's serve at 5-4. But he let Majchrzak back into the game and when the set went to a tiebreaker, two unforced errors by Nishikori handed his opponent the set.
Those mistakes riled Nishikori between the second and third sets, obviously upset with himself as he placed ice cubes in a plastic bag on the back of his neck.
He came out firing to start the third set and his 10-game streak and 15 of the last 17 before Majchrzak had enough and stopped the match.