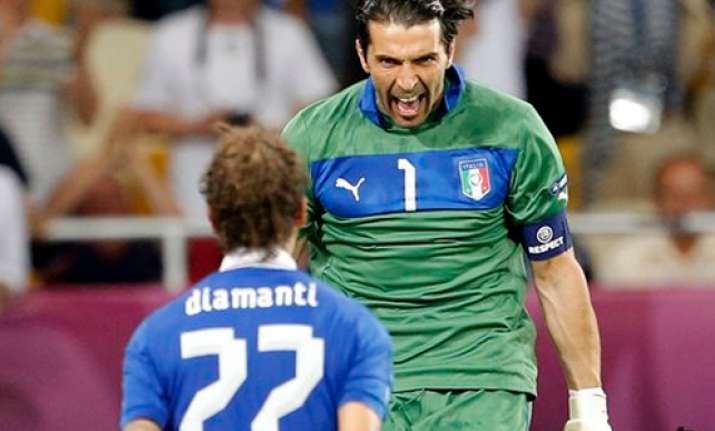 Ukraine, Jun25: Alessandro Diamanti is a relative newcomer to Italy's national team. It didn't take long for him to show his worth, though.
Making just his third appearance with the Azzurri, Diamanti converted the decisive penalty kick when Italy beat England in a shootout Sunday to reach the European Championship semifinals.
Diamanti—whose name translates as 'diamonds'—didn't waste any time before his shot, either, stepping right up to drill the ball past goalkeeper Joe Hart with the authority and coolness of an experienced veteran.
After his shot landed in the back of the net, Diamanti ran over and jumped into the arms of goalkeeper Gianluigi Buffon, who had just smothered Ashley Cole's spot kick to set up the winning strike.
"I only wanted to hug Buffon. He had told me to widen my shot," Diamanti said. "We deserved this victory. The penalties rewarded our dominance during the match. It's only fair, we played a great match and battled from the first to the last minute."
To be fair, at 29 Diamanti is somewhat of a veteran. He's just had a long career path to make it to a big international match, and he still plays for a mid-table club at Bologna.
As fortune would have it, Diamanti had a brief spell in England at West Ham United in 2009-10, scoring half his eight goals with penalties. Previously, Diamanti played for lower division clubs like Prato and Albinoleffe, before helping Livorno reach Serie A.
After time in England, Diamanti returned to Italy with Brescia for a season, then joined Bologna last August in a co-ownership deal and produced one highlight after another, helping Bologna avoid relegation with seven goals.
In December, he scored a late equalizer in a 2-2 draw with AC Milan, while in April he found the target with a stunning free kick from 30 meters (yards) in a crucial 1-0 victory over Cagliari.
Known for his floppy hair and easygoing demeanor, Diamanti stands out on Italy's squad for his humbleness. He comes from the Tuscan town of Prato, which also produced Italy standouts Paolo Rossi and Christian Vieri.
Against England, he replaced Antonio Cassano in the 78th minute and brushed a shot off the post in the 101st.
In the 115th, his cross set up a header for Antonio Nocerino that went in but which was ruled out for offside.
His next chance came in the shootout, and it wasn't wasted. Like Fabio Grosso, who converted the final penalty in the 2006 World Cup final shootout win over France, Diamanti now holds a place in Azzurri history.
"Getting to this point is a huge satisfaction," Diamanti said. "I always believed I would, even when I played in the Inter-regional division—I just never told anyone, because they would have thought I was crazy."