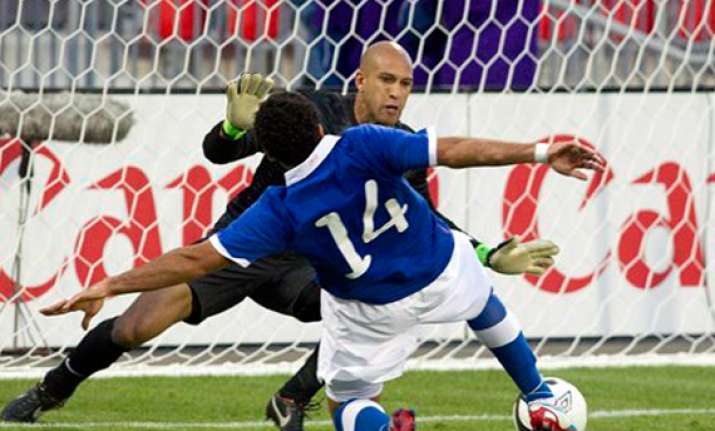 Toronto, Jun 4 : The United States played out a 0-0 draw against Canada on Sunday, failing to convert a couple of strong chances in its third friendly in eight days.
Clarence Goodson attempted a header off a free kick during stoppage time, but Canada goalkeeper Lars Hirschfeld knocked the ball over the bar. Goodson also missed a close opportunity early on, shooting wide to the left.
The United States stretched its unbeaten streak against its northern neighbors to 15 games in its first game in Canada since Roy Wegerle scored twice in a 3-0 victory in World Cup qualifying on Nov. 9, 1997, in Vancouver.
Canada, which was seeking its first win against the United States since a 2-0 victory in Vancouver on April 2, 1985, also had a strong chance during stoppage time, but substitute Simeon Jackson failed to connect after collecting a pass from Dwayne De Rosario.
While the U.S. team has been busy lately, the Canadians played together for the first time since a 3-1 loss to Armenia in February.
The Americans beat Scotland 5-1 on May 26, then lost to Brazil 4-1 on Wednesday.
The United States controlled most of the early action as Jermaine Jones' shot was blocked in the second minute and Goodson missed about a minute later.
The Canadians then settled in and began to do some attacking of their own. De Rosario shot wide right in the ninth minute.
Hirschfield and U.S. keeper Tim Howard were both tested in the first half. Hirschfeld tipped a shot from Edgar Castillo over the bar in the 15th minute, and Howard denied Tosaint Ricketts eight minutes later.
Nik Ledgerwood put the ball into the top left corner of the goal for Canada in the 34th minute but was disallowed due to an earlier foul.