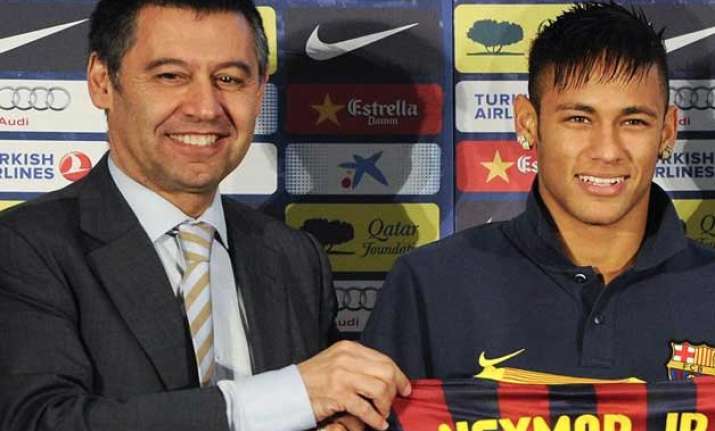 Madrid: Spain's prosecutor on Monday requested the National Court open a trial against Barcelona football club, its current president Josep Bartomeu and his predecessor Alexandre "Sandro" Rosell for alleged tax evasion, including in the signing of Brazil striker Neymar.
In a statement, the prosecutor called for jail terms of more than two years for Bartomeu and more than seven years for Rosell, as well as the imposition of large fines.
The prosecutor called for club itself to be fined 22,202,750 euros ($24 million) for alleged false accounting in the tax returns of 2011, 2013 and 2014.
Investigating judge Pablo Ruz had on March 13 named Bartomeu and Rosell in a tax fraud and fraudulent administration probe into the 2013 signing of the Brazil star.
The judge alleged the club and its management fabricated a labyrinth of contracts to conceal the real cost of the signing.
At the time, Ruz set a deadline of 10 days for the prosecutor to submit an indictment setting out the penalties it sought for the defendants.
The prosecutor has agreed with Ruz that Barcelona paid at least 84 million euros (then some $108 million) for Neymar, and that by presenting a lower figure the club allegedly reduced its tax burden in a fraudulent manner.
The club insists the cost was 57 million euros (then $74 million).
In a statement released late Monday, Barcelona said the club, Bartomeu and Rosell were innocent, and that the National Court was not the correct place to resolve a matter when there was a "lack of any crime."
Barcelona has denied any wrongdoing and, shortly after hearing of Ruz's decision, said it would appeal. Monday's statement said it was instructing lawyers to present "the corresponding appeals."
Bartomeu took over when Rosell resigned in Jan. 2014 when he was named a suspect in the case and investigated for misappropriating funds to hide the transfer cost.
But the prosecutor said both Bartomeu and Rosell's signatures appear on contracts linked to Neymar's signing and that they must have been equally aware of the implications.
Ruz has not set a trial date.
This is the latest twist in a series of legal cases engulfing Barcelona.
Star forward Lionel Messi and his father are also being investigated for allegedly defrauding Spain's Tax Office of 4 million euros ($5.3 million) in unpaid taxes from 2007-09.
The club has been banned from making transfers during 2016 after FIFA said it had broken rules regarding the signing of youth players.
However, Barcelona's legal troubles have not hurt the team's performance so far.
Barcelona leads the Spanish league by four points with 10 rounds to go and is still vying for Champions League and Copa del Rey silverware.