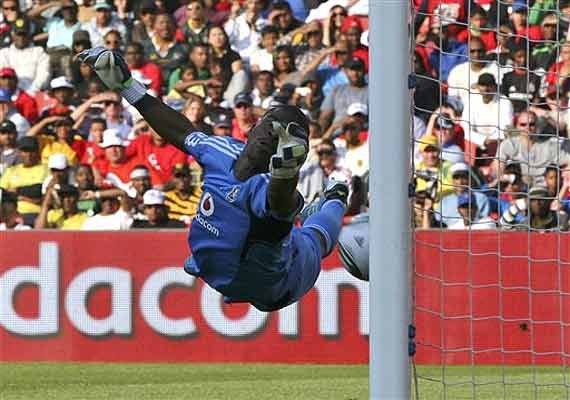 Johannesburg: The captain of the South African national soccer team was fatally shot at his girlfriend's house during an attempted robbery Sunday (26th October) night as he tried to apprehend the intruders, police and an eyewitness said.
Goalkeeper Senzo Meyiwa was killed around 8 p.m. after two gunmen entered a house in Vosloorus township near Johannesburg while an accomplice of theirs waited outside. The 27-year-old Meyiwa was shot in the upper body, police spokesman Brig. Neville Malila said on 27th October.
   
Tumelo Waka Madlala, a friend of Meyiwa's who said he was at the house during the attempted robbery, said the goalkeeper was shot while trying to stop the intruders, who had demanded cellphones and money from people inside the home.
   
"As they were running away we tried to stop them and that is when they shot him at point blank range," Madlala told The Associated Press. The house belonged to Meyiwa's girlfriend Kelly Khumalo, a South African singer and celebrity, witnesses said. There were seven people in the house before the intruders entered, according to police. No one else was hurt.