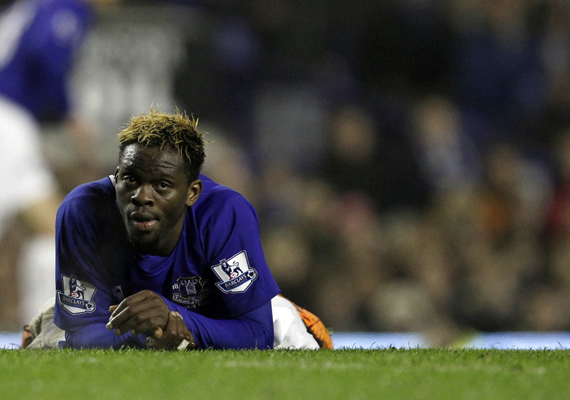 Clairefontaine, France, Feb 28: Injuries to other players have given striker Louis Saha an unexpected chance to stake his claim for a place in the France team after years of missing out through injury.

The 33-year-old Saha's last match for France was two years ago and lasted only 10 minutes as he limped off with a calf strain. Prior to that, his previous appearance came in 2006. In between, he was beset by knee and hamstring problems.

But injuries to forwards Karim Benzema and Loic Remy, coupled with Saha's impressive club form with Tottenham, have offered him another chance to resurrect his international career four months away from the European Championship.

"I'm here and I want to show what I can do," Saha said ahead of Wednesday's friendly away to Germany. "You need to have this self-sacrifice and this will to force yourself to come back. I have a chance now, although there's always a lot of competition for places with young players coming through."

Saha's modest return of four goals in 19 games for France does not fully reflect how highly he has been rated by France coaches over the years. He was in both the Euro 2004 and 2006 World Cup squads, and played in both tournaments.

After the 2006 World Cup, Saha scored in Euro 2008 qualifiers away to Georgia and at home to the Faeroe Islands.

This should have cemented his place in the squad, but soon after playing at Greece in a friendly in November 2006, Saha picked up another knee injury with Manchester United, and his hamstring problems continued over the ensuing seasons.

After a long absence, Saha was called up by Laurent Blanc for a Euro 2012 qualifier at home to Belarus in September 2010. He came on in the 69th minute, and limped off in the 79th, despite pleading with Blanc to keep him on.

"It is frustrating because you always want to play. You watch the games with a sinking feeling in your stomach," Saha said. "I've had a lot of similar experiences. You just have to keep getting back up.

"It's not easy, but these are just things you have to accept and I'm very down to earth," Saha added. "There are more serious things in life, so I tell myself that I'm lucky to play for France. In a way, I'm even lucky to get injured when you see what happens (to other people) on television."

Blanc, meanwhile, is happy to give Saha another chance.

"It's good to see him back playing again, everyone knows the quality he has. It's just a shame he's been injured so much," Blanc said. "I hope he stays fit. The fact he's changed clubs and has a new coach, with a different way of playing, will hopefully get the best out of him."

Having repaid Tottenham manager with three goals in three games since joining the attack-minded Spurs from Everton late in the January transfer window, Saha intends to repay Blanc's belief in him.

"I've always believed in my lucky star," Saha said. "When people have faith in you, you have to do everything you can to thank them and prove them right."