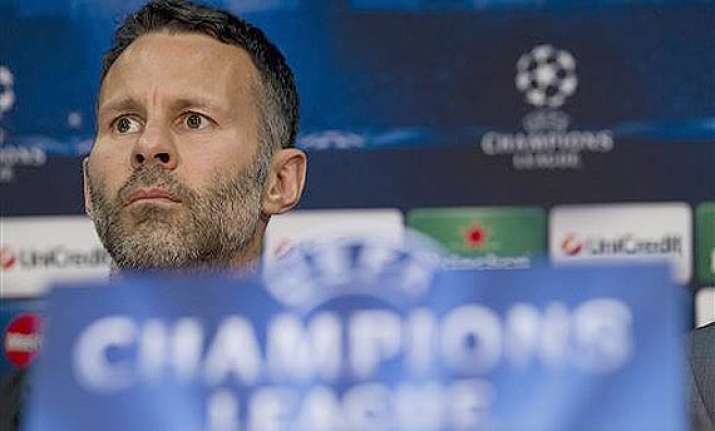 MANCHESTER : Marginalized on and off the pitch in the fateful David Moyes era, Ryan Giggs had almost become the forgotten man at Old Trafford this season.
That's all about to change.
In the most turbulent period at Manchester United in a generation, the club is turning to one of its greatest players to bring some order.   
Giggs was appointed as United's temporary coach on Tuesday following the firing of Moyes after a woeful 10 months in charge.   
The Welshman is still in United's playing squad at the age of 40 -- he is into the 23rd season of a remarkable career at the club -- but was a member of Moyes' coaching staff and has had aspirations for a while of being a manager. Now he'll get his chance.   
With four league games remaining, Giggs is likely to be in charge until the end of the season -- starting with Saturday's home match against Norwich.   
The task? To lift some of the gloom surrounding the club and aim for 12 points that could earn United a place in next season's Europa League, a crumb of comfort from a sobering year.   
"I definitely think Ryan will be a manager," former United captain Bryan Robson said on Tuesday. "Whether he gets it full-time at a club like Manchester United is a big ask."   
A person with knowledge of the situation at United said Giggs was not being considered for the full-time position and that the club would be seeking an experienced manager to replace Moyes on a permanent basis. It was not guaranteed that Giggs or Phil Neville would even be part of the new manager's coaching staff.   
The person spoke on condition of anonymity because the club was yet to announce the moves.   
Four straight wins to end the season may just make United's board think again, however. Especially if his team plays with the vim, heart and adventure that has characterized Giggs' distinguished playing career.   
"For me, I think in the last four games, there will be more togetherness and playing a brand of football that is more eye-catching," said Dwight Yorke, who played alongside Giggs in United's famous treble-winning team in the 1998-99 season.   
"Players will play more in the United way. Four games is not a lot, but I think Giggs is the right man."   
One of the problems in the Moyes era was that the manager failed to command respect from the players. In the end, it seemed they simply stopped playing for him.   
That isn't likely to happen with Giggs. You don't do that to a man who has won 13 Premier Leagues, four FA Cups, three League Cups, two Champions Leagues, one UEFA Super Cup, an Intercontinental Cup and a Club World Cup, and who will have learnt so much in his 22 years under former manager Alex Ferguson.   
There was a feeling among some United fans that Moyes underused Giggs, certainly on the pitch with the midfielder making just five first-team appearances since the turn of the year. But also perhaps off the pitch, with Moyes reportedly choosing to ignore Giggs' advice on occasions.   
Giggs used a news conference before the Champions League quarterfinal against Bayern Munich to stress that his relationship with Moyes was good, although he said he would have liked to have played more this season.   
"I normally play every two or three weeks to get the best out of me," Giggs said. "The last game was probably my first for seven weeks but you are not sulking, you just have to be ready to play your best for the team."   
That summed Giggs up -- always thinking of the team, never giving up.   
His new role will see him thrust in front of microphones before and after matches, with the spotlight on him more than he will have experienced over recent seasons.   
That will not suit a person who Ferguson branded in his recently published autobiography as "introverted."   
But Giggs' primary focus will be getting the best out of an underperforming group of players. And with United's run-in looking straightforward on paper -- Norwich, Sunderland and Hull must all visit Old Trafford over the next three weeks -- Giggs' managerial record could look impressive come the end of the season.   
Then the Glazer family will have some thinking to do.