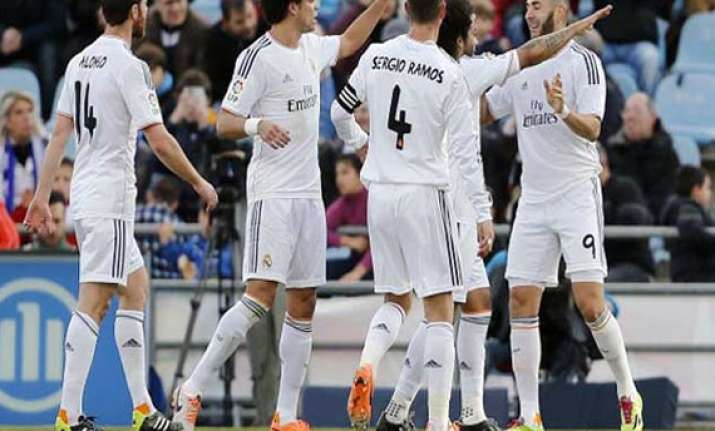 Dortmund (Germany): Real Madrid lost 2-0 here Tuesday to a resurgent Borussia Dortmund, but will still advance to the Champions League semifinals for the fourth consecutive year thanks to their 3-0 win in the first leg of the quarterfinal clash.
The Blancos had a chance to settle the issue in the 16th minute, after Dortmund's Lucasz Piszczek was called for a hand ball in the area.
Goalkeeper Roman Weidenfeller guessed right and stopped Angel Di Maria's penalty kick, providing a real morale boost for Dortmund, which ousted Real Madrid in last year's Champions semis only to lose in the final to Bayern Munich.
Marco Reus tormented Real Madrid at both ends of the field and exploited a defensive blunder by Pepe to put the home side ahead 1-0 in the 26th minute, stirring the hopes of the 65,000-plus at Signal Iduma Park.
The Blancos continued to stumble and a giveaway by Asier Ilarramendi set up Reus' second goal in the 37th minute.
With Dortmund on the verge of spoiling Real Madrid's dreams of a record 10th Champions League crown, Carlo Ancelotti replaced Ilarramendi with Isco Alarcon, one of the scorers in the first-leg victory.
The visiting side seemed to regain its composure and even threatened the Dortmund goal on several occasions.
The German club wasn't done yet, however, and Iker Casillas was forced to make a pair of big saves to keep the match from going to overtime.
Cristiano Ronaldo, nursing an injury, spent the match on the Real Madrid bench.