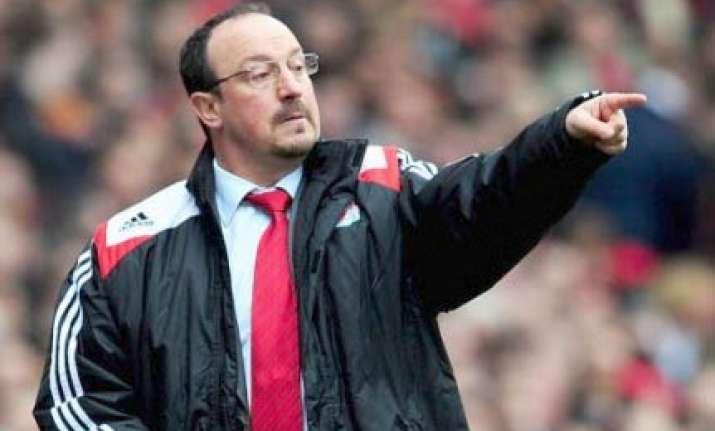 Rafa Benitez is on the verge of leaving as Liverpool manager after six years with the club, British media reported Thursday.
The Spaniard was reportedly in talks with the club and his agent to discuss a compensation deal worth 3 million pounds ($4.4 million; >3.6 million) for him to depart with immediate effect.
Benitez has been linked with the managerial vacancy at Inter Milan following Jose Mourinho's departure for Real Madrid.
Although Liverpool declined to comment on the reports, the national newspapers and both the BBC and Sky Sports News reported Thursday that Benitez's spell at Anfield appeared about to end.
Had Liverpool decided to fire Benitez after the disappointing seventh-place finish in the Premier League, the club would have had to pay him up to 16 million pounds ($21 million) in compensation.
Benitez, who led Liverpool to the 2005 Champions League title but no Premier League championships, signed a five-year contract in March 2009.
Among the names mentioned as a possible replacement for Benitez at Liverpool were Guus Hiddink, who is due to start work as coach of Turkey's national team in August; Martin Jol of Ajax; and Avram Grant, although the Israeli seems set to take over at West Ham.
After losing Mourinho to Real Madrid, newly crowned Champions League winner Inter Milan is looking for a coach. With Fabio Capello announcing he is staying on as England manager until 2012, Benitez appears to be the club's leading target.
Benitez' future has been the subject of much speculation in the past two seasons during a time of turmoil behind the scenes at Liverpool.
American co-owners Tom Hicks and George Gillett Jr., who bought Liverpool three years ago, have put the club up for sale after a public fallout over the running of the club. Liverpool is now heavily in debt and, for the first time since the 2003-04 season, will not be playing in the Champions League next term.
Liverpool finished well behind Chelsea in the title race this year and has not won the league title since 1990.
The lack of success this season has also led to strong speculation that star players such as Steven Gerrard and Fernando Torres could move to other clubs. AP