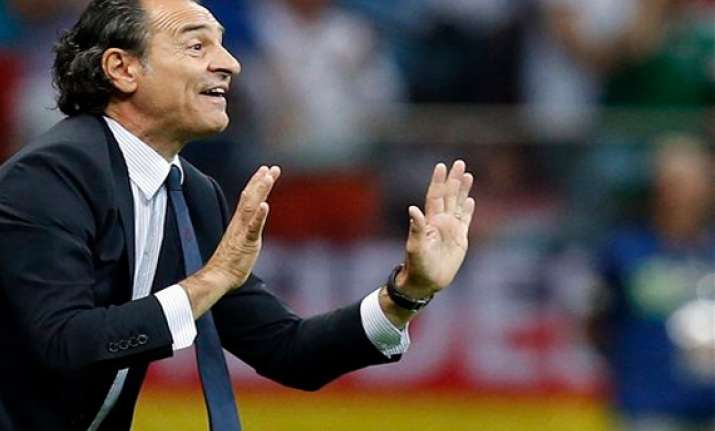 Ukraine, Jun 29:
Only hours after taking Italy to the European Championship final, coach Cesare Prandelli is already contemplating what he'll do after Sunday's match with Spain.
Prandelli's contract runs through the 2014 World Cup, but like Marcello Lippi six years ago, he appears weary from the match-fixing scandal afflicting the Azzurri back home.
He also seems tired of criticism for bringing his son to the tournament as a physical trainer.
"I miss being out on the pitch more, but I have a great relationship with the federation," Prandelli said in Krakow, Poland, on Friday, a day after an impressive 2-1 win over Germany in the semifinals. "But the last two months have been very difficult.
Concerning his son, who works for Serie A side Parma, Prandelli said "some comments really hurt me."
Lippi left after leading Italy to the 2006 World Cup title, making it clear that it hurt deeply that his son—a football agent—was caught up in the scandal back then.
Lippi returned to lead Italy to an embarrassing first-round exit from the 2010 World Cup, after which Prandelli took over.
Over the last two years, Prandelli has turned the squad around so dramatically that the Gazzetta dello Sport on Friday compared him to the groundbreaking renaissance astronomer Galileo Galilei.
A squad always known for its defending now attacks at all costs.
"Just like Galileo Galilei. He was right. Italy doesn't run around the ball anymore, rather it moves the ball around, which is a pleasure," the Gazzetta wrote in its post-match report card Friday for Prandelli.
If he does leave, Prandelli could become the hottest name on the coaching market, while the likes of Fabio Capello and Italy under-21 coach Ciro Ferrara could be among the possible replacements.
Prandelli's revolution is all the more amazing considering it came amid a match-fixing and betting scandal.
A week before the squad departed for Poland, police showed up at Italy's training camp to notify defender Domenico Criscito that he was under investigation for match-fixing. He was then dropped from the squad.
Another defender, Leonardo Bonucci, was also placed under investigation, but remained with the team, and has become a dependable starter in this tournament.
Also, Italy captain Gianluigi Buffon came under attack after it was revealed that he made large payments to the owner of a tobacco shop in Parma that is also a betting parlor. While he has not been charged with any wrongdoing, the revelations shook the Azzurri camp.
As other players and well known figures not involved with the national squad also became implicated in the scandal, the situation grew so dire that Italian Premier Mario Monti last month suggested stopping football in the country for two or three years.
Prandelli then replied that he was willing to remove his squad from this tournament.
"Some people understood, others didn't, so let me explain it well," Prandelli said Friday. "Premier Monti had said that maybe it would be best to stop football for two or three years.
There was a prosecutor who sent a notice of investigation to one of our players without telling us if he would interrogate him after two, four or six days.
"At that point I said, 'We want to play, we want to be the clean face of football,"' Prandelli said. "'But if you think that we don't represent the country, tell us, and we'll stay home."'
Now it appears Monti may attend Sunday's final in Kiev, despite Italian politicians saying throughout the tournament that they would not go to matches in Ukraine to protest the treatment of jailed opposition leader Yulia Tymoshenko.
"I'm not surprised," Prandelli said.