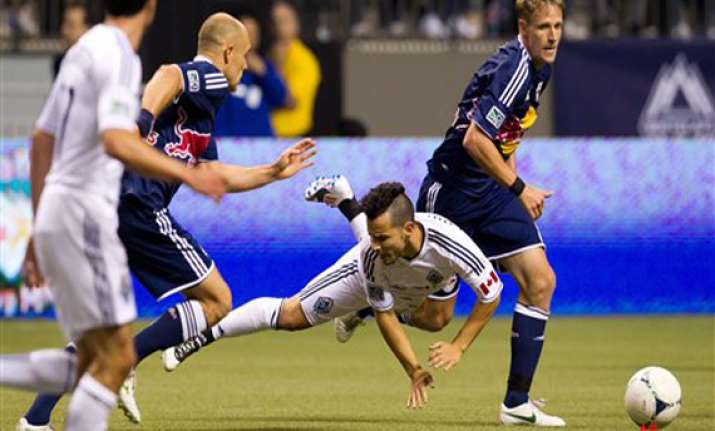 Vancouver, British Columbia, Jun 21 : Heath Pearce scored in the 85th minute as the New York Red Bulls salvaged a 1-1 tie with the Vancouver Whitecaps on Wednesday night.
Pearce sprinted through a crowd to head Joel Lindpere's cross past goalkeeper Joe Cannon,
Martin Bonjour's goal in the 75th minute gave the Whitecaps a late lead. The ball was crossed by Davide Chiumiento from the right wing and after a friendly touch by Alain Rochat it found its way to Bonjour at the top of the box.
After a brief hesitation he belted a right-footed shot into the top right portion of the net.
Cannon made five saves for Vancouver (7-3-5), which remains unbeaten in five games (2-0-3).
New York (8-4-3) goalie Ryan Meara failed to stop the only shot on target by Vancouver.
The Red Bulls played without designated players Thierry Henry and Rafa Marquez, who also missed New York's 3-1 loss to the Chicago Fire on Sunday that snapped a six-game unbeaten streak.
The Whitecaps were without Darren Mattocks, suspended after receiving two yellow cards in Saturday's 1-0 win over Colorado.
Camilo Sanvezzo came back into the starting lineup in his place and, though he had numerous scoring chances, failed to get a shot before being replaced by Eric Hassli in the 64th minute.
The first save of the game came when Dax McCarty headed a cross directly at Cannon in the eighth minute.
In the 14th minute Dane Richards drew a yellow card when he threw a forearm to the head of Gershon Koffie while jumping for a ball. With that caution Richards will be suspended from the Red Bulls' next game.
The game continued to be physical, resulting in Lindpere being shown a yellow card in the 20th minute for upending Koffie.
Koffie had Vancouver's first good scoring chance in the 28th minute. Chiumiento faked McCarty with some nifty footwork before feeding a wide-open Koffie at the top of the box, but the Ghana native missed the net wide left.
Then, Camilo failed on two scoring chances. In the 32nd minute Camilo shot wide left as well from almost the exact same spot. Six minutes later Camilo was sent in by Chiumiento down the left side and had Meara scrambling on the turf, but the Brazilian hit the side of the net.
Vancouver's Atiba Harris (knee) and Omar Salgado (foot) both sat out the game with injuries. New York coach Hans Backe did not make the trip and was replaced by Jan Halvorsen for the game.