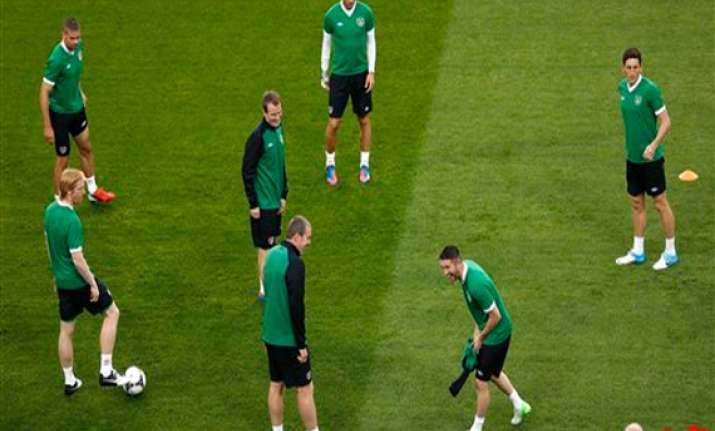 Poland, Jun17:
  There will be no room for sentiment when Italy meets former coach Giovanni Trapattoni and his Ireland team on Monday with a place in the European Championship quarterfinals on the line.
Nothing less than victory will suffice for the Azzurri, who are going to have to play without mercy in their final Group C match—and also hope for help from Spain and Croatia.
Italy coach Cesare Prandelli played for Trapattoni at Juventus 30 years ago and considers the legendary manager a fatherly figure. But even with Ireland already eliminated after two straight losses, he knows that will count for little.
"Trapattoni won't do us any favors," Trapattoni said. "And that's how it should be. I'm not expecting anything easy from Ireland. They want to win."
A year ago, Trapattoni guided Ireland to a 2-0 win over Prandelli's Italy in a friendly on neutral ground in Belgium.
Perhaps even more worrying to Italy is that if Spain and Croatia draw with a score of 2-2 or higher, Italy will be eliminated even if it beats Ireland.
That's exactly what happened to the Azzurri at Euro 2004, when Trapattoni was coaching Italy—a 2-2 draw between Denmark and Sweden eliminated the Italians, even though they beat Bulgaria in their final group match.
"If we start thinking about a fix, we've got problems," Prandelli said.
Spain and Croatia lead the group with four points each and Italy has two.
The Italians are not without hope, though, entering their match in Poznan.
If they win and the other match doesn't end in a draw, they will advance as the second-place team in the group. Or if Italy wins and Spain-Croatia finishes 0-0, the Azzurri will win the group.
Alternatively, if Italy wins and Spain-Croatia finishes 1-1, the Azzurri will advance if
they beat Ireland by at least three goals or by scores of 3-1 or 4-2 -- based on a better UEFA ranking.
"We've got to believe, otherwise there's no sense in playing," midfielder Claudio Marchisio said.
Playing in its first major tournament in 10 years, Ireland opened with a 3-1 loss to Croatia, then was thrashed 4-0 by defending champion Spain.
"I have in mind some players for Ireland's future, but you won't see them until August," the 73-year-old Trapattoni said, dispelling any thoughts that he might play some fringe players.
"If I were to change five or six men now for the match with Italy, I would draw suspicion," Trapattoni added. "I've got to use the squad that brought Ireland back to the Euros after 24 years. They deserve to play."
Winger Damien Duff, one of only three players in the current squad who appeared for Ireland in the 2002 World Cup, is in line for his 100th cap if he plays against Italy.
As for Italy, Prandelli might have to replace Mario Balotelli with Antonio Di Natale in attack, since Balotelli picked up a right knee injury in training on Saturday.
Di Natale replaced Balotelli in the second half of Italy's opening two matches, 1-1 draws with Spain and Croatia, and scored against Spain.
Andrea Barzagli is likely to start in defense after missing the opening two matches with a calf injury, while midfielders Riccardo Montolivo, Antonio Nocerino and Federico Balzaretti could be brought into the lineup.