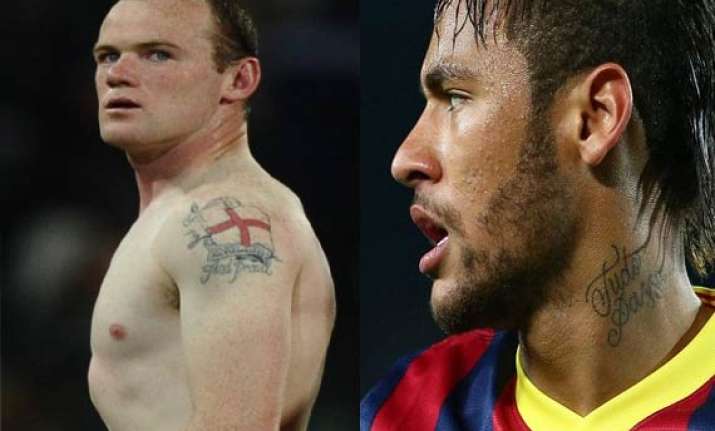 New Delhi: There was a time when only bikers and sailors used to have tattoos but today they are flaunted by everyone from movie stars to sportspersons, and most of your friends too! This year during the FIFA World Cup, a lot of football players have got inked to mark the event on their bodies forever.
Let's take a glimpse of 10 footballers with their inked body:

1) Daniele De Rossi (Italy)
Italian midfielder De Rossi has a tattoo of heaven and earth, sky blue, and fire. There is a Latin language text that reads, "Ubi tu Gaius, ego Gaia IBI". Meaning of the motto is, "Wherever you are, I'll be there." He also has a tattoo down on his right leg "Warning: Slide Tackles."
2) Raul Meireles (Portugal)
Portugal's mid-fielder Raul Meireles tweeted about a special tattoo he got just for the World Cup! the tattoo includes the faces of three women, a pocket watch and one of Portuguese capital Lisbon's famous trams surrounded by musical notes and a black rose.
Meireles is also probably the World Cup's most tattooed footballer. That's two full sleeves on both arms, his chest, the back of his neck and a colourful Chinese-style dragon adorning his entire back.
The latest in his "collection" – his entire right leg from ankle to thigh covered in ink – was completed in January this year. It includes the faces of three women, a pocket watch and a famous tram in Portuguese capital Lisbon, and a tower in Porto, the last one paying tribute to his hometown.