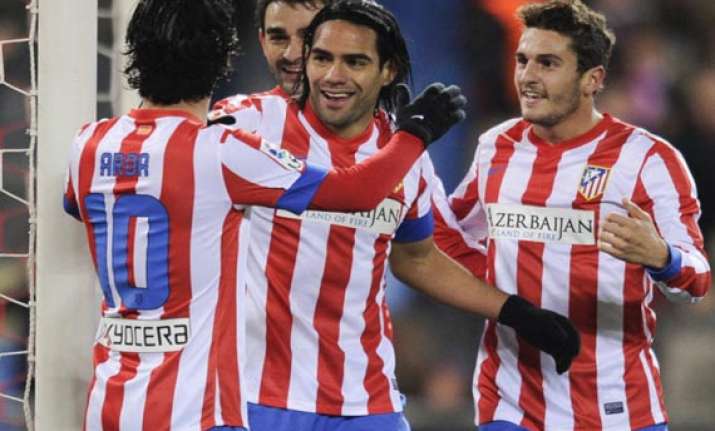 Madrid: This Spanish capital is steeling itself for what could be the most important sporting event in its history, even though the football match will be played in Portuguese capital Lisbon.
Atletico Madrid's stunning 3-1 win away to Chelsea Wednesday night set up a Madrid derby final of the Champions League May 24, reports Xinhua.
It is the first time the two sides are going to meet in an European final and the game will see Real Madrid chase their 10th Champions League title while Atletico, who are playing their first final of the tournament since 1974, seek to write their name on the trophy for the first time.
Should Atletico win, that would make Madrid the first European city to have two teams that have conquered the most important trophy in European football.
Both sides have been impressive en-route to the final with Real Madrid knocking out German trio - Schalke 04, Borussia Dortmund and Bayern Munich - a run which culminated with their incredible 4-0 win in Munich Tuesday.
Atletico have been no less impressive, beating Zenit St. Petersburg, Porto and Chelsea on their way to the big game.
While Real Madrid have used the pace of Cristiano Ronaldo, Gareth Bale and Angel Di Maria to launch furious counter-attacks, Atletico have relied on playing as a unit, being hard to break down and then using the power of Diego Costa and the skill of Arda Turam to do the damage.
It will be a massive contrast in styles and if previous meetings are anything to go by, possibly not the most open of games. Atletico and Real Madrid have played four times this campaign with Atletico winning once, Real twice (in Copa del Rey) and a 2-2 draw.
The two league meetings saw exhibitions of subterranean football with fouls, dives and general bad-temper. While things cooled down in Copa del Rey, due partly to Atletico looking tired, the signs are it will be a difficult final for the referees.
That final is still three weeks away and both clubs will have to put it into the back of their minds until the end of the season as both are fighting for the La Liga title.
Atletico have a six point lead over their neighbours, who have a game in hand, and a four point advantage over Barcelona and could, in theory, become Champions Sunday if Real Madrid lose and Barcelona fail to win.
That is unlikely to happen but it is just another topic to throw into the debate which will be held in every bar here over the coming weeks and then in the exodus of fans to Lisbon.
For three weeks at least, forget Rio, because Madrid is the capital of the footballing world.