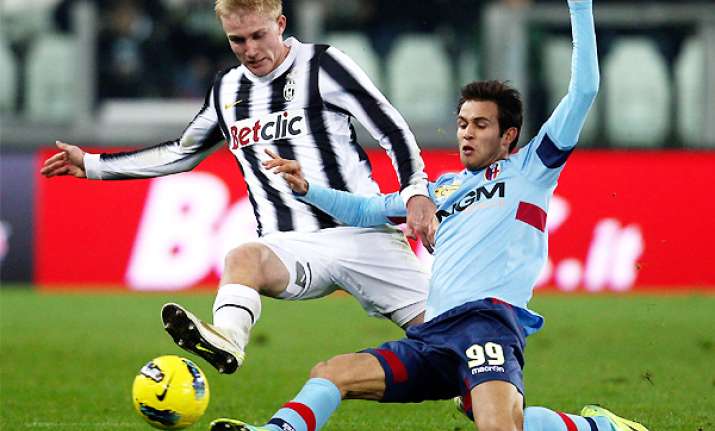 Turin, Italy, Dec 9: Claudio Marchisio scored another decisive goal—this time in extra time—as Serie A leader Juventus edged Bologna 2-1 to reach the Italian Cup quarterfinals Thursday and remain unbeaten this season.

In the 102nd minute, Marchisio struck an accurate, angled shot just beyond the reach of Bologna goalkeeper Federico Agliardi.

Marchisio also scored a late winner in a 2-0 victory over Cesena on Sunday and he has eight goals in all competitions this season, including one for Italy.

Emanuele Giaccherini put Juventus ahead in the 90th but Andrea Raggi equalized six minutes into injury time.

Giaccherini intercepted a pass near midfield, dribbled by Bologna's entire defense and found the target from a sharp angle; while Raggi scored with a header from a corner.

Not having qualified for Europe this season, Juventus is keen on winning its first Italian Cup since 1995. The Bianconeri have won this competition nine times, matching Roma for the record.

Juventus will play the winner between Roma and Fiorentina in the quarterfinals.

The other round of 16 matchups are: Palermo vs. Siena; Lazio vs. Verona; Udinese vs. Chievo Verona; Napoli vs. Cesena; AC Milan vs. Novara; and defending champion Inter Milan vs. Genoa.

While resting standouts Gianluigi Buffon and Andrea Pirlo, Juventus still dominated much of the match.

Luca Marrone, Fabio Quagliarella and captain Alessandro Del Piero—playing four days after requiring eight stitches for a cut to his left temple—each produced early chances for Juventus.

However, Agliardi was superb and made one difficult save after another early on.

Marchisio went on for Marrone in the 79th.

In the 87th, Del Piero was elbowed in the same spot he was injured in Sunday, and he walked off for a moment but then came right back on.

Giaccherini had another goal in the 114th annulled for offside.