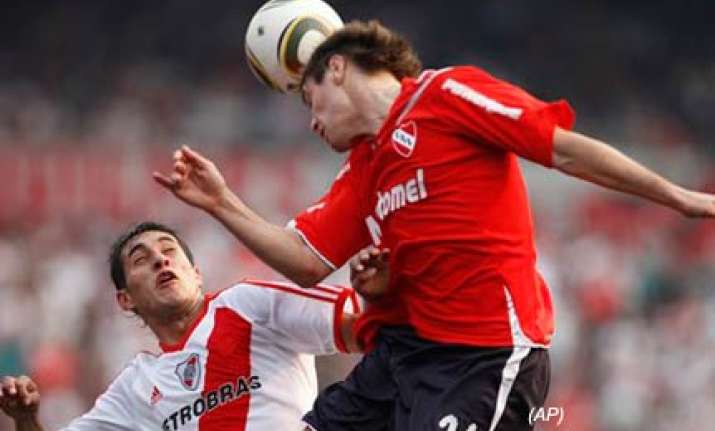 A header in the eighth minute by Leonel Galeano proved to be the winning goal for Independiente as they defeated Argentinos Juniors 1-0 on Thursday (26/8) in the all Argentine affair of the Copa Sudamericana in Buenos Aires.  
Both teams failed to create many opportunities in a lacklustre match and both clubs will be looking to improve in the second leg of their second round tie to be hosted by Juniors on the 9th of September.  
With both teams earning a bye in the first round of the Copa Sudamericana competition, Independiente hosted Argentinos Juniors at the intimidating Libertadores de America Stadium on Thursday.
Both teams have experienced a woeful start in the domestic competition with one point each from three games, which they earned when they played out a 1-1 draw earlier in the month.  But only eight minutes into the match, the seven times Copa Libertadores managed to find the back of the net.
Independiente's Hernan Fredes floated in a well weighted free kick into the box and  Leonel Galeano produced a powerful header that went straight into the back of the net past the outstretched hands of goalkeeper Nicolas Navarro.
Midway through the first half another opportunity presented itself for Independiente when Martinez made a fine run before putting this exquisite ball behind the defence for Nestor Silvera, who was denied by Navarro who raced off his line.
Chances were few and far between for Juniors with this well worked move their best opportunity of the half after 41 minutes.  Sergio Escudero crosses the ball and Ramen Ocampo expertly chests the ball down for  Gonzalo Sebastian Vargas who shoots the ball straight at the keeper while sporting one of the most interesting pieces of head gear the football world has seen.
The second half and Independiente was unfortunate not to extend its lead when Nestor Silvera header hit the post after 58 minutes.  
Ten minutes later and Juniors had an opportunity when Juan Mercier chipped the ball into the box for Daniel Romero but his header sailed over the bar after goalkeeper Gabbarini  came off his line to pressure the striker.  
 With time running out - Juniors were presented their best opportunity of the match to equalise when Fabio Escobar ran onto a ball just outside the box.
Under pressure from defenders he probably took a touch too many before firing a shot on goal that was denied by Gabbarini, who came to  Independiente's rescue and preserved their lead.  
 Deep into injury time Independiente had one more attempt on goal and it nearly proved to be an embarrassing one for Navarro as he failed to gather the shot cleanly and could have easily pushed the ball into his own net.  Independiente won the match 1-0 and Juniors will host the second leg on the 9th September. AP