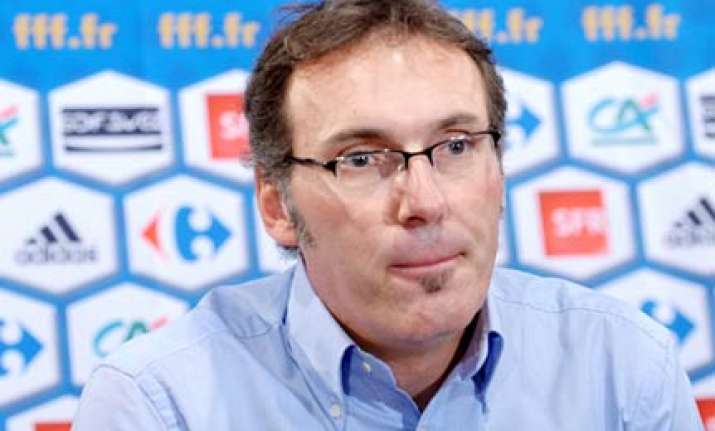 Paris : France coach Laurent Blanc criticized the differing punishments imposed on five players for their involvement in a World Cup mutiny and challenged the French Football Federation on Sunday to provide evidence of their leading role.
 Last Tuesday, the federation banned Nicolas Anelka for 18 games, former captain Patrice Evra for five, Franck Ribery for three and Jeremy Toulalan for a single match over their role in boycotting a training session in South Africa. Eric Abidal escaped a ban.
 "I'm a bit skeptical about the nature of the sanctions since they are all different," Blanc said on French television. "Those people (disciplinary panel members) must explain to me whether they have any criteria (for the bans). They must be clear and precise."
 "What happened in South Africa was serious. But to my knowledge, and I'd be surprised if the people who led the investigation know a bit more than I do, it was a collective act. It was a collective decision."
  All 23 France players boycotted a training session in South Africa to protest Anelka's expulsion after he insulted then-coach Raymond Domenech during a 2-0 loss to Mexico. However, only five players were summoned to the disciplinary hearing.
 The mutiny was criticized by President Nicolas Sarkozy and underlined an embarrassing first-round exit at the tournament, with the federation withholding the players' World Cup bonuses.
 "Only when people bring me evidence that those five players played a much more important role than the others, will I understand why different sanctions were imposed," Blanc said. "But I want to have it explained to me. So far, no one has explained it to me. I'm not bothered by the substance of the decision but by the form.
"It's not that I did not want sanctions _ there have already been sanctions. But I did not want to have disciplinary sanctions. I wanted to rely on the best players for the key European Championship qualifiers."
Blanc dropped all 23 World Cup players as a collective punishment for his first game in charge _ a 2-1 loss to Norway earlier this month. However, the suspensions come as a blow as he attempts to restore France's competitiveness, first up in a qualifier against Belarus in September. AP