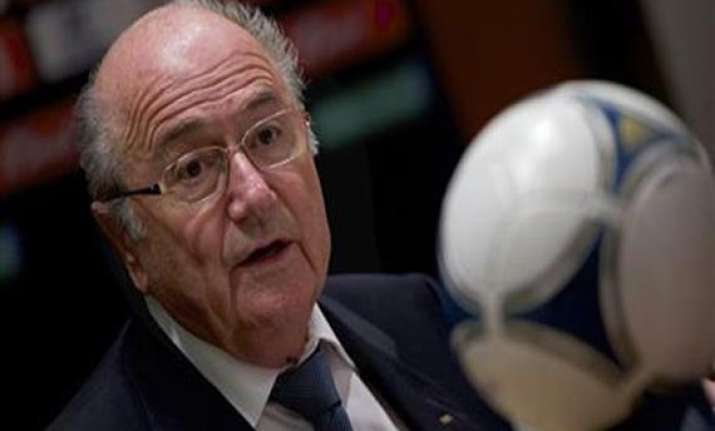 Port Louis, Mauritius, May 31: FIFA introduced new integrity checks on senior officials and welcomed a woman onto its exclusive ruling board Friday, changes that world football's ruling body said signaled it was close to completing a prolonged and often criticized path to reform.
"I am happy to say that FIFA has weathered the storm. We have emerged from troubled waters," FIFA President Sepp Blatter proclaimed to delegates at the annual congress on the tropical Indian Ocean island of Mauritius.
FIFA's long-serving captain said the ship had reached "transparent" waters in Mauritius after a rocky, scandal-hit few years for the 109-year-old body.
Yet the head of the expert reform panel advising FIFA earlier told delegates the organization still had lots to do to modernize, including making the salaries and bonuses of its big earners public, and establishing age and term limits for senior officials like Blatter.
Also, independent observers have not yet been allowed onto FIFA's decision-making executive committee.
Swiss professor Mark Pieth said FIFA's leadership needed to show a commitment "that they really want to go down the road to reform."
Pieth told The Associated Press before the start of the congress that FIFA's reforms were only about halfway to completion and there were "remaining challenges." He said the integrity checks introduced weren't as strict as they could be, and that it was "essential" that FIFA also introduces term limits on senior officials.
"The logic there is to say you don't want networks and old boys groups to establish themselves over 30 years or so. That's a real issue," Pieth said.
However, the final part of FIFA's planned reforms—the issue of term limits and age restrictions—was pushed back to next year's congress. Those reforms could affect any plans the 77-year-old Blatter may have of standing again for the leadership in 2015 and backtracking on a previous commitment that this term would be his last.
The issue has now been muddled in the politics at play between Blatter and UEFA President Michel Platini, who is tipped as a future challenger for the FIFA presidency.
"For me, frankly, my take on it is this is held up by political bickering by mainly two people. And the whole place is been held hostage by the fight and the struggle of two people," Pieth told AP.
Blatter later responded to UEFA's apparent push for age and term limits, and its criticism that he was delaying the vote while he considered running again until 2019, when he will be 83.
"I give you back the cynical question," Blatter said. "Why do they (UEFA) try to do that, to have an age limit for the president only. It's cynical. I give it back to you."
The proposal to postpone the vote on age and term limits also drew an active debate on the floor, with the Danish and German delegates reflecting UEFA's frustration that those issues wouldn't be settled despite a two-year discussion over their implementation and the importance placed on them by the expert reform panel.
The proposal was eventually passed by a vote of 123 to 16, meaning 68 of the 207 national associations voting Friday either abstained or did not register valid votes.
The issue of whether to make the salaries for Blatter and other officials public also wasn't dealt with in Mauritius.
"We're not making much headway" on that transparency issue, Pieth said.
The new centralized integrity checks will be made for officials standing for the presidency and some committees. But members of the top executive committee that are elected by their continental confederations will be vetted at confederation level, and not centrally. Also, Pieth's recommendation that those confederation checks be scrutinized by independent auditing firms was not adopted.
Around a third of FIFA's powerful executive committee either left their posts or were suspended for ethics violations over the last two years, and FIFA's honorary president Joao Havelange recently resigned after it was found he took bribes in the 1990s.
In a swipe at some of Pieth's criticism, FIFA executive committee member Theo Zwanziger of Germany described the insistence on even stricter integrity checks as "absurd," highlighting the uneasy relationship between FIFA and its reform advisers over the past few months.
"We must have the necessary trust in members in football," Zwanziger said. "If we start with mistrust from the top down, then this sport is no longer what it was."
However, as well as problems within the executive committee, four of the six confederation presidents have resigned or been suspended over recent years and a fifth, Issa Hayatou of Africa, was reprimanded by the IOC, underlining FIFA's poor recent record.
In one modernizing move, Lydia Nsekera of Burundi was voted onto the executive committee as its first female full-time member on a four-year term, while two other women were co-opted onto the executive for a year.
"They talk at home, now they can talk here," Blatter said of FIFA's new female executives.