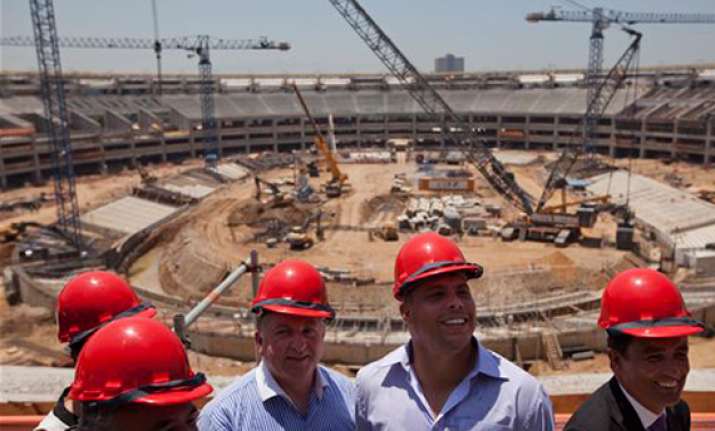 Bagshot, England, March 3: FIFA's secretary general expressed serious concerns about Brazil's lack of progress in World Cup preparations, criticizing the country for prioritizing winning the tournament rather than making it ready for fans.

Jerome Valcke said on Friday he will visit Brazil next week to push the organizing committee to take immediate action to ensure there is not transport and accommodation chaos for supporters.

"The big issue we have in Brazil is that not a lot is moving," Valcke said. "I don't understand why things are not moving. The stadiums are not any more on schedule and why are a lot of things late?

"In 2014 we will have a World Cup. The concern is nothing is made or prepared to receive so many people because the world wants to go to Brazil. I am sorry to say but things are not working in Brazil."

Valcke's message to Brazil is: "You have to push yourself, kick your (backside) and just deliver this World Cup."

Brazil greats Romario and Pele have already warned their homeland was risking embarrassment. The World Cup will be played in 12 far-flung venues, including a 44,000-seat stadium being built in the Amazon jungle city of Manaus.

"What is the World Cup for Brazil, to organize the World Cup or win the World Cup? I think it's to win the World Cup," Valcke said. "I'm not sure it's about organizing the World Cup. You should think about South Africa, it was to organize the World Cup, not to win the World Cup."

Valcke is frustrated about the "endless discussions" in Brazil's Congress about the World Cup bill, which critics say give FIFA power and few responsibilities.

"You expect more support," he said. "We should have received these documents signed by 2007 and we are in 2012."

But Valcke insisted there was "no Plan B" for an alternative host, despite his public concerns.

"(Brazil) don't have enough hotels everywhere — you have more than enough in Sao Paulo and Rio de Janeiro, but if you think about Manaus you need more," Valcke said. "Let's say in Salvador you have England versus (Netherlands) and you have 12 percent of the stadium English fans and 12 percent Holland — that's 24 percent of 60,000 fans.

"The city is nice, but the way to go to the stadium and all the organization of transportation has to be improved."

All 12 cities will host at least four matches, triggering concerns about travel in the massive nation, whose ailing airport infrastructure needs an upgrade.

"We made the decision to move the teams and it means we were criticized if you follow this team you will have to fly 8,000 kilometers," Valcke said. "We did it at the request of Brazil to make sure there was not a part of Brazil with England and the rest of Brazil without England if England qualify.

"Having supported the decision we have to ensure that the fans and the media — not the teams because they have their own planes — will be able to follow the team."