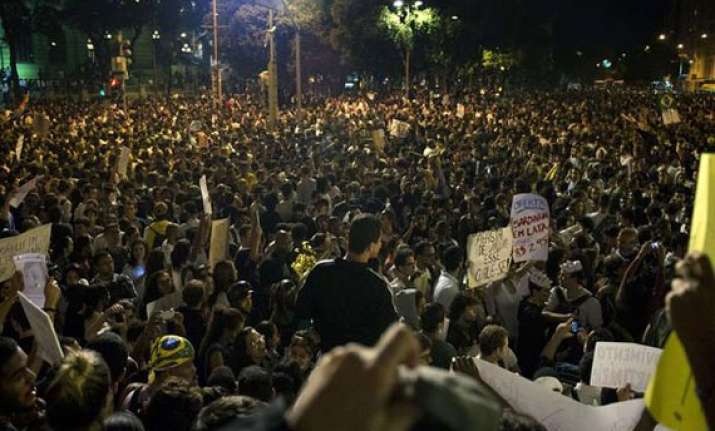 Sao Paulo: Fans threw rocks and beer cans at team buses as players arrived for a Brazilian league match on Sunday, the latest case of football violence that is plaguing the 2014 World Cup host nation.
Authorities said nobody was injured in the incident before the match Corinthians and Santos in the city of Araraquara.   
There have been confrontations between supporters and police inside and outside stadiums nearly every recent weekend. On Saturday, four supporters where shot in the feet and legs in a confrontation between rival fans ahead of a second-division match in northeastern Brazil.   
On the field, Cruzeiro beat Criciuma 5-3 on Saturday in Belo Horizonte to extend its league lead over Botafogo and Gremio to 12 points with seven rounds left. Seeking its first league title since 2003, Cruzeiro relinquished a two-goal lead in the first half at the Mineirao Stadium before rallying to clinch its 20th win in 31 matches.   
Gremio lost 4-0 to Coritiba in Curitiba on Sunday, while Clarence Seedorf's Botafogo defeated Copa Libertadores champion Atletico Mineiro 1-0 at the Maracana Stadium on Saturday.   
Defending champion Fluminense lost 3-2 to Vitoria at the Maracana on Sunday, extending its winless streak to seven matches and remaining in danger of demotion. It is only three points clear of the relegation zone, which is where rival Vasco da Gama remained after conceding a late goal in a 2-1 loss at Ponte Preta.   
Corinthians and Santos drew 1-1 in the match marked by the attack on the teams as they arrived at the Fonte Luminosa Stadium in Araraquara.   
Authorities said dozens of Corinthians supporters were responsible for the attack against both buses. Corinthians have been struggling on the field, particularly after elimination from the Brazilian Cup on Wednesday. Local media said most of the fans' complaints were against former AC Milan striker Alexandre Pato, who missed the decisive penalty in a shootout against Gremio in the Brazilian Cup.   
Santos released images of the broken windows on its bus and said Corinthians should be held accountable for the fans' behavior.   
"This is absurd, we were targeted by animals," said World Cup veteran midfielder Zinho, who is now a Santos director. "We should be playing with closed gates, without fans."   
The match was being staged in Araraquara because Corinthians was punished by Brazil's sports tribunal over an earlier incident involving fan violence, forcing the club world champion to play four matches away from its stadium in Sao Paulo.   
Cruzeiro, Sao Paulo, Vasco da Gama and Palmeiras have all lost home-field advantage because of fan fighting. There have been several cases of confrontations between fans and police, and earlier this month supporters at a match at the World Cup stadium in Fortaleza destroyed nearly 100 seats.   
On Saturday, two fans were shot in the feet and two in the legs during a confrontation before the match between America and Ceara just outside the World Cup host city of Natal. Police said Ceara fans driving by the stadium fired at the America fans waiting outside. The injuries were not life-threatening.   
Also Saturday, Palmeiras, the club with the most Brazilian titles, secured its return to the first division of the Brazilian league after a 0-0 draw with Sao Caetano. The draw gave the eight-time national champion nine more points than second-place Chapecoense and 19 more than fifth-place Icasa. The top four teams advance.