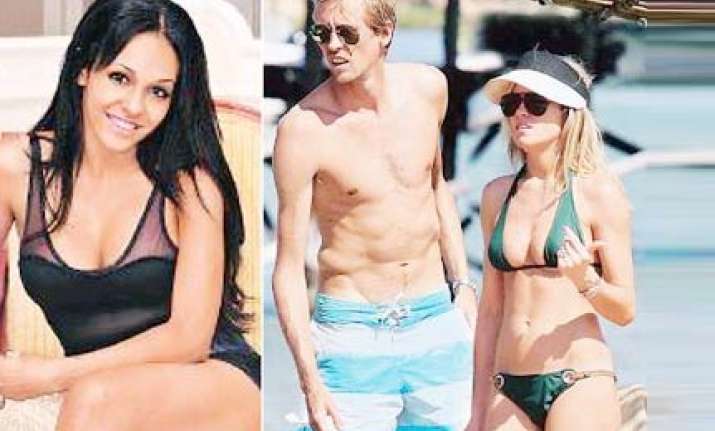 England footballer Peter Crouch, 29,  made his first appearance in public on Monday following revelations of an encounter with a teenage sex worker while on a stag night in Madrid, The Daily Mail reports.  
With his 6ft 7in stooped and bowed, and his head hanging, Crouch cut a distinctly shamed figure as he emerged on Monday.
The Tottenham Hotspur striker made his first appearance in public following revelations of a lurid encounter with a teenage prostitute while on a stag night in Madrid.
Today a stony-faced Abbey Clancy, 24, was seen on the phone at a riding stables where she was being consoled by friend Toni Terry, wife of Chelsea footballer John Terry.
Dressed in riding gear, she looked tired and angry as the pair are set to sit down to discuss their future together in the wake of the cheating scandal that has left Abbey 'devastated'.
The England striker drove into Tottenham's complex in Chigwell behind a pair of shades, and he was unsurprisingly tight-lipped. Once among his teammates, Crouch found time to joke and smile as he was put through his pre-season paces ahead of Saturday's season-opener against Manchester City.
After England's woeful World Cup performance, Crouch has joined the litany of overpaid stars that have been photographed falling out of nightclubs, smoking and — in Wayne Rooney's case — urinating in the street.
And now Crouch has taken matters to a new low after being accused of cheating on the model and television presenter with a teenage prostitute.
The woman, who calls herself Monica Mint, claims Crouch paid her £800 for liaisons in the back of a taxi and at an £80-a-night hotel.
Sunday night Crouch's spokesman was unavailable and his Premier League club — Tottenham Hotspur — refused to comment.
Model Abbey, 24, is said to be furious after hearing about her fiancé's alleged betrayal and is believed to have called Crouch and screamed: "I can't believe this. How could you humiliate me? Am I not good enough for you?"
The affair is reported to have taken place after Crouch, 29, went on a stag weekend to Madrid ahead of the wedding of school friend Ed Aitkin.
The player arrived in Spain on Friday, July 16. The liaison with the 19-year-old Algerian-born prostitute is said to have taken place in the early hours of the next day after.
She was introduced to the footballer at the Buddha del Mar nightclub.
He began dancing with the girl before inviting her to join him and a group of friends in a ropedoff area of the club, where they were drinking from a two- litre bottle of vodka and had already apparently had a bottle of champagne.
A friend of Crouch asked how much she charged before she and the £ 70,000- a- week footballer got into a taxi together. He counted out €1,000 ( £ 850) in cash before she performed a sex act.
Monica said: " We stopped at the traffic lights while I was doing what he wanted and he didn't seem to mind that people could have seen him.
" Because he is so tall, his legs were squashed up and the driver was joking as out movements were shaking the seat." They then checked in to the three- star Rafael Hotel, where Crouch insisted the room was in the girl's name — but he had to pay with his credit card.
Miss Mint told the News of the World Crouch was more pleasant than Spanish footballers she claims to have been with. " Peter was humble and kind," she said.
" The Spanish players are arrogant divas who treat me like a whore. I don't think Peter is good looking, but he is a nice person." She said she did not know he was engaged to Miss Clancy, adding: " I can't believe he paid for sex with someone like me when he has a gorgeous woman like her at home." Crouch started dating Miss Clancy in 2006. They briefly split that summer when he sent her home from the World Cup in Germany after she was involved in a cocaine scandal.