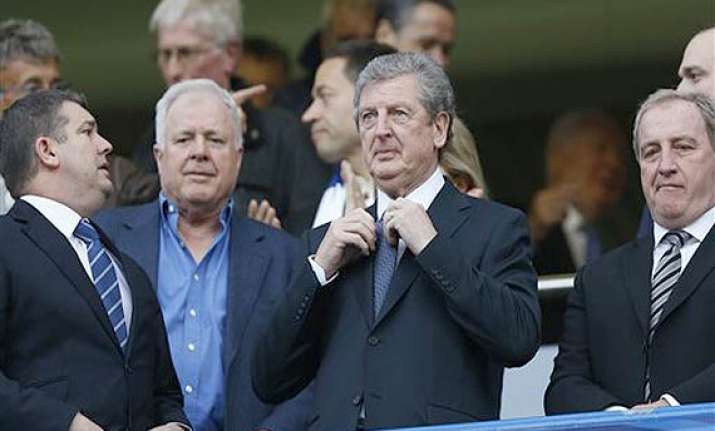 LONDON : England coach Roy Hodgson has urged Premier League clubs not to use World Cup squad members in postseason friendlies to ensure they are rested and their minds are clear for Brazil.
Abu Dhabi-owned Manchester City heads to the United Arab Emirates to play Al Ain on May 15, three days after Hodgson names the 23-man World Cup squad, with England goalkeeper Joe Hart and midfielder James Milner in line for the trip.   
"I sent out a letter on FA paper to the clubs, giving them our program and asking them to be aware that my intention was that, from the last game of the season, the players should be totally free until we meet up -- to get a break from football," Hodgson said. "That's what we would like. But the bottom line is that we have no control over it. I've done what I can do."   
With key squad members involved in a tense finale to the Premier League title race at Liverpool, Chelsea and City, Hodgson wants the players to "relax and clear their minds" before linking up with the squad.   
"If the clubs say, `We're not interested in that, we want to do something else,' then there's nothing I can do about it," Hodgson said at a briefing. "I don't have the right or the authority to tell clubs what to do at the end of the season. What authority I do have is to keep the players from May 19 because the FIFA regulations say so."   
After that point, Hodgson wants his players focused on Brazil and not negotiating any transfers. Southampton duo Luke Shaw and Adam Lallana have been linked with lucrative moves to bigger Premier League sides.   
"The players will have to accept I am not going to show any sympathy for that side of it," Hodgson said. "As far as I am concerned they are signing up for England ... if I was a real player I would say to my agent, `You go away, sort the options out, and when you have got something to put on the table you come back to me because, at the moment, I am working for England and that is where my head is because it can't afford not to be."'   
To ensure the players' heads are in the right place, Hodgson has enlisted psychiatrist Steve Peters, who works with the Liverpool squad, to be part of his backroom staff.   
"My biggest fear is we will come away from the World Cup knowing that if we'd just been able to be a little bit more relaxed about it and freed our minds a bit more we could have done a bit better," Hodgson said.   
"That's why, of course, people like Steve Peters are coming with us ... he might see some of the tensions we don't see because we are so close to it."   
It appears Ashley Cole will make the squad despite a lengthy run out of the Chelsea team before starting the last three games, with Hodgson valuing the experience of the left back capped 107 times.   
"The fact that he had not played won't affect me that much," Hodgson said. "I have never doubted Ashley, and I have never thought that I can't now pick Ashley Cole because he hasn't played the last 18 games."   
Cole's inclusion leaves Hodgson mulling over whether to take the 18-year-old Shaw along with Everton's Leighton Baines.   
"My problem is going to be a very simple one," Hodgson said. "There are three, possibly four, very good candidates for the left back position and can I afford to take more than two?"