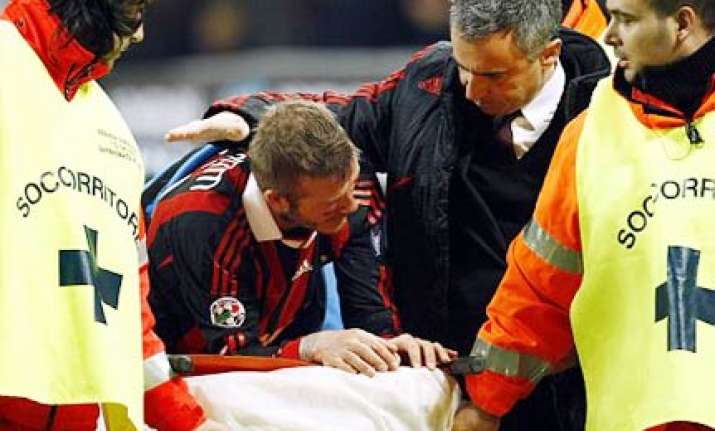 England's star footballer David Beckham was in tears on Sunday night when his dream of being the first England player to appear in four World Cups was wrecked after he suffered a ruptured achilles tendon, reports The Mail, London.
The former England captain limped to the touchline during AC Milan's 1-0 win over Chievo and he was reported to have said 'It's broken, it's broken' as he came off.
He will have surgery in Finland on Monday, but the injury is so severe that Beckham already knows he will not be going to South Africa with his country this summer for a competition that would have given him the chance to close in on goalkeeper Peter Shilton's international appearance record of 125 caps.He is currently on 115.
The AC Milan doctor said on Sunday night that Beckham would be out for between five and eight months, and the fear must be that not only his England days but his career may be over. The news amounts to another massive setback for national manager Fabio Capello, who was determined to select Beckham in his 23-man squad.
While the 34-year-old is no longer an automatic choice for the starting line-up, Capello saw him as an alternative to the quick wingers he prefers and someone who has a positive influence in the dressing room.
Only last week Beckham proved his value when he League game against Manchester United at Old Trafford. Milan were comprehensively beaten 4-0 on the night, and 7-2 on aggregate, by the English champions but Beckham emerged as their most effective player.
His commitment to playing at the World Cup has been admirable. Conscious that his England place was under threat while an LA Galaxy player, he completed a loan move to Milan for the last two winters in a bid to satisfy Capello.
That he has succeeded in remaining a member of the Italian's squad reflects well on him but this injury will raise questions over whether he is a victim of playing an essentially year-long season.
Returning to the starting line-up after Milan's loss to United last night, Beckham had also been treated for a deep cut to his right cheek early in the first half following a collision.
Milan team-mate Ignazio Abate said after the game: 'He was in tears. He didn't say very much.' Milan coach Leonardo added: 'He felt the muscle begin to come up, which is a typical symptom when you break an achilles' tendon. This is a real blow.'
But Adriano Galliani, Milan's vice-president responsible for transfers offered Beckham some hope for the future. He said: 'I saw him really suffering. In the changing room I hugged him and told him that if he wants he can join us next year, too.'
Milan physician Jean Pierre Meersseman told Italy's Sky TV that Beckham will fly to Finland today for surgery, where he will be treated by specialist surgeon Sakari Orava.
Beckham's injury continues a wretched run of bad luck for England. As well as stripping John Terry of the captaincy amid the scandal and controversy over his affair with Vanessa Perroncel that also caused his former Chelsea teammate Wayne Bridge to make himself unavailable for his country, manager Capello has major concerns over the fitness of Ashley Cole, who suffered a fractured ankle last month.