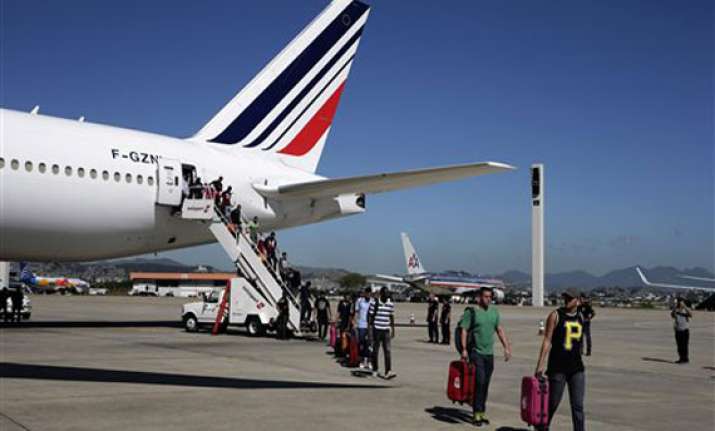 Sao Paulo: Brazilian officials are going out of their way to try to convince World Cup tourists they won't face problems at airports even though not all upgrades will be completed in time.
Brazil's chronic delays in airport renovations have matched stadium construction, and officials have acknowledged for a while that visitors will depart from flights into unfinished facilities.
Now they are stressing that everything will still be OK for fans on arrival.
Although some of the "work is not finished, all airports will be prepared to adequately" receive World Cup tourists, Brazil's Civil Aviation Minister, Wellington Moreira Franco, said in an interview with The Associated Press. He said all "major" projects will be completed.
A day earlier, President Dilma Rousseff used her weekly radio show to "guarantee" the airports will be ready to welcome visitors.   
But the government's attempts to downplay concerns come as problems continue to arise three weeks out from the tournament. In the latest setback, heavy rain caused flooding in the passenger terminal of the World Cup airport in the jungle city of Manaus on Monday, upsetting travelers and forcing officials to temporarily close some areas.
Construction continues at full pace in many of the airports, and some of the renovation projects initially planned for the World Cup will be completed only after the tournament.
"I would tell tourists not to worry because when it comes to airports, Brazil will be prepared to adequately receive all tourists," Franco said. "Of course, we all wanted the work to be ready, but it's not, but that doesn't mean that there will be problems. The work is not finished, there are some delays, but that's not keeping us from being prepared."
The government predicts 3.7 million people will travel in the country during the World Cup, including 600,000 from abroad. Airports are crucial, because nearly all of the travel between host cities will be by air.
Franco said Brazilian airports normally are already able to handle more passengers than that during the peak period of Christmas and New Year's.
"Tourists ... won't find anything different than they would normally find anywhere else," Franco said. "I assure everybody coming to Brazil that you will find the same level of comfort and security as you would find in other airports in the world. The problems here aren't better or worse than the problems you have at home."
Industry experts interviewed by the AP recently warned that fans should brace for some difficulties at airports because of the construction delays, but noted it was unlikely there will be widespread chaos in air travel during the monthlong World Cup.
"I know there are many concerns and doubts," Franco said. "It's natural that sometimes there are fears that things may go wrong in countries outside of the `first world.' But you can rest assured, we are not concerned."
Rousseff has been trying to get that message across any time she gets a chance.
"People coming through airports today will notice that the dust is settling, the noise is dwindling, and the boards are coming down to give way to modern and comfortable installations," Rousseff said in her radio show. "I guarantee that our airports are prepared for the World Cup. We will welcome everyone very well. Our airports are prepared to offer good services to everyone coming to watch the World Cup."