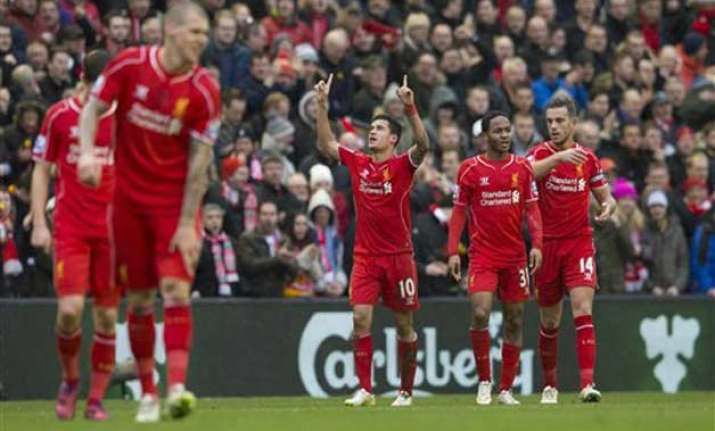 London: The quarterfinals of the European cup competitions will have a glaring omission. For the first time in 22 years, England is not represented in the last eight of the continental tournaments.
It started with five-time European champion Liverpool, which exited the Champions League at the group stage and was then ousted from the Europa League after being demoted to the second-tier competition. No English team advanced from the first knockout stage of the Champions League either, with Arsenal, Chelsea and Manchester City eliminated in the round of 16.
England's last remaining European participant was Everton, but the Merseyside club slumped out of the Europa League on Thursday. All five teams from the world's richest league went out of the supposedly mediocre Europa League before the last eight, with Hull not making it past the group stage and Tottenham beaten in the round of 32.
Coming after England's worst-ever World Cup last year — a group-stage exit with one point — the obituaries are being written for the so-called Motherland of Football.
Yet, this is an English failure with an international flavor. Only one manager in charge of the five English teams in Europe this season was English — Hull's Steve Bruce. And those foreign managers are pinning the blame on the slump on the grueling domestic campaigns.
"If you look at the top leagues in Europe, most of those, they've got a little break in the winter," Everton manager Roberto Martinez said Friday, a day after losing to Dynamo Kiev. "There's been small margins but those small margins could easily be the demands that you have to face domestically."
City manager Manuel Pellegrini reignited the winter break debate after the Premier League champions lost at Barcelona on Wednesday.
"Perhaps playing so many games in December and January means they don't arrive to February as well rested," Pellegrini said. "Those are two months loaded with games. Logically there has to be a connection."
But nothing has changed since England was represented in seven of the eight Champions League finals from 2005 to 2012, including the Chelsea-Manchester United head-to-head in 2008. English football has never had a winter break.
And when the fixture schedule does offer a gap, teams often use it as a chance to fly abroad. City went to Abu Dhabi to meet commercial obligations in its owner's homeland and play an exhibition match. City returned on a Friday and lost in the FA Cup to second-tier Middlesbrough the following day.
Pellegrini, though, is careful not to blame his bosses. Instead, European football's governing body is in his sights, and the sanctions imposed for breaching Financial Fair Play rules.
"Maybe it was not our best year to continue in Europe because we have restrictions about the amount of players, the amount of money we can spend," Pellegrini said. "So it was a difficult year for our team in that sense."
But there are other problems at City as well. In the less than two years Pellegrini has been manager, City has spent more than $260 million on new players. But only two of those players — Fernando and Eliaquim Mangala — started at the Camp Nou when City lost 1-0 to go out 3-1 on aggregate.
It suggests there are flaws in the buying strategy and City's season is set to end without a trophy, with Chelsea looking likely to wrest the Premier League title away from the defending champion.
Chelsea's domestic supremacy, though, hasn't been matched in Europe, with Jose Mourinho's team beaten by Paris Saint-Germain on away goals. The same rule saw Arsenal lose to Monaco, winning 2-0 in Monaco but paying the price for a 3-1 home collapse.
"Two teams have gone out on away goals, which I think should be questioned because it is a rule that is outdated now and that has to be changed, and I have fought for that for a long time," Arsenal manager Arsene Wenger said. "It should count maybe after extra-time because this rule has been created in the 1960s to encourage the teams to attack away from home. But since that football has changed."
Although it is the second time in three seasons that there is no English team in the Champions League quarterfinals, the previous boom years suggest it is too early to conclude that the clubs are in a downward spiral.
"What's surprising is no one (from England) is in the Champions League," Brazil great Pele told The Associated Press.