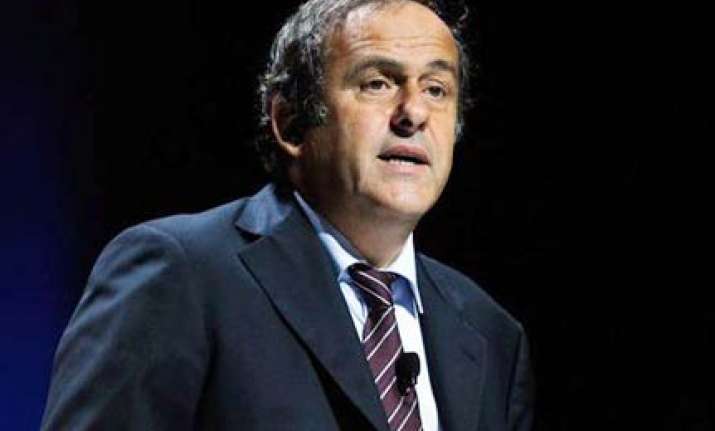 A match-fixing ring with more than 200 suspected members fixed or tried to fix around 200 matches across Europe, including three in the Champions League, in what UEFA is calling the biggest betting scandal in Europe.
In an operation launched months ago, some 300 German police officers assisted by more police forces in the other countries cracked down on the ring on Thursday. The investigation only included matches played in 2009.
"We at (European soccer's governing body) UEFA are stunned by the magnitude of this," UEFA representative Peter Limacher told reporters at a Bochum police news conference on Friday. "This is undoubtedly the biggest match-fixing scandal that European football has ever seen. Now we must do everything to make sure those referees, players and officials are taken to justice." The prosecutor's office in Bochum is Germany's leading authority on fighting corruption and fraud.
Police in Germany, Britain, Austria and Switzerland staged simultaneous raids, arresting 15 people in Germany and two in Switzerland, officials in Bochum said. Officers also seized one million Euros ($1.49 m) in cash or goods as part of an investigation into the suspected manipulation of games across nine European leagues. In all, some 50 properties were searched in the four countries.
Among the games believed to have been manipulated are three Champions League matches and 12 Europa League games, all this year. UEFA said all were early qualifying round games. A qualifying match for the Under-21 European Championship is also under suspicion. According to German authorities, 32 games are under suspicion in Germany, including four in the second division. The others were lower-tier matches. In Belgium, 17 second-division games are under suspicion; in Switzerland, 22 second-division games; in Croatia, 14 first-division games; in Slovenia, seven first-division games; in Turkey, 29 first-division games; in Hungary, 13 first-division games; in Bosnia, eight first-division games, and in Austria, 11 first and second-division games.
Media reports in Berlin said that two Croatian brothers convicted in Germany's match-fixing scandal in 2005 — which involved referee Robert Hoyzer, who rigged matches as part of an international betting gang and was sentenced to two years and five months in prison — were among those arrested on Thursday. The betting syndicate leaders are suspected of bribing players, coaches, referees and other officials to fix games and the suspected leaders are believed to have made at least 10 million Euros ($14.82 million).
"The figure could be higher because authorities say the number of affected games also could be higher," Bichum's police director Friedhelm Atlhans said. "This is only the tip of the iceberg," he said.
"UEFA will be demanding the harshest of sanctions before the competent courts for any individuals, clubs or officials who are implicated in this malpractice, be it under state or sports jurisdiction," UEFA general secretary Gianni Infantino said in a statement.
UEFA has beefed up its early warning system to protect against illegal betting and match-fixing and president Michel Platini has described those issues as the greatest problem facing European football. Limacher said the arrests were proof that the detection system was working. "We feel a certain satisfaction but on the other side we are deeply affected by the scope of game manipulations by international gangs," Limacher said.
The detection system monitors all UEFA competitions and national first and second division games for suspicious betting patterns. The system "is already bearing fruit," UEFA said. "We will continue our battle against any form of corruption in European football with a mission of zero tolerance," Infantino said.