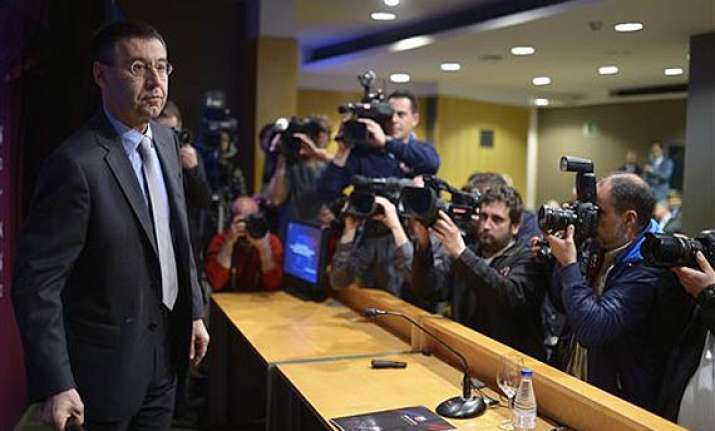 Madrid:  FC Barcelona President Josep Maria Bartomeu strongly defended his club's youth system and hinted that outside forces were behind the decision published by FIFA to prohibit the club from signing any new players until June 2015.
"We will go where we have to go, because the right thing has to happen. We will take this to the end," said Bartomeu Thursday, just 24 hours after being informed of the ban, reports Xinhua.
FIFA took the decision to ban Barca from signing players for "breaches relating to the international transfer and registration of (non EU) players under the age of 18," saying the club had broken the rules with 10 players.
Barca announced Wednesday night they would appeal against the decision, which for the moment looks to have stopped moves to sign Borussia Monchengladbach goalkeeper Ter Stegen and 17-year- old Croatian international Alen Halilovic, whose signing was confirmed by Barcelona just a week ago.
Speaking in a packed press conference, Bartomeu said the club agreed with the FIFA rule 19, which is designed to protect the rights of minors, but said "at Barca people will always find a club which defends the values of training and education. Barca is a club with a training centre (La Masia)."
He highlighted the education young footballers receive as well as their training as future players.
"They are punishing a model that has been in place for 35 years. They are punishing the essence of our club, an example which even FIFA have praised."
"Our youth system has 230 children from 18 different countries and 40 of them are not Spanish and of those 18 live in the Masia."
"We do not intend to renounce our model of training, we will defend all the youngsters and the message is 'you don't touch the Masia'," said Bartomeu.
The club president also said many of the young foreigners at the club were receiving a much better education than they would get in their homelands.
He said that planning for next season would continue as normal an insisted the club had not broken rule 19.
FIFA only acted after receiving a complaint from a third party about Barca's possible breach of rules. It is the latest in a series of off-field scandals which have hit the club in recent months, such as Lionel Messi's accusation of tax evasion, accusations of fraud in the signing of Neymar, which forced the resignation of former president, Sandro Rosell and even allegations of doping at the club.
Bartomeu hinted these incidents were related.
"What we perceive is that they are trying to damage Barca and we are investigating. We do things well here and someone wants to hurt us."
"We have information, there are documents and when they have been verified we will act with all our force," said the Barcelona president.